The 2011 Toronto International Film Festival is already long gone, but we'll be talking about the films that premiered there for a long time to come. For one, a TIFF prize for Best Canadian Feature has already given Philippe Falardeau and his fantastic Monsieur Lazhar the momentum it needed to be named Canada's official entry to the Best Foreign Film category at the 2012 Oscars. There's lots to draw from this year's festival: not to toot our own horn, but Quebec films really do rock (for proof, see: Roméo Onze, Marécages, Café de Flore, Nuit #1 and Goon); Werner Herzog continues to haunt us with his cinematic soul searching, this time, exploring U.S. death row inmates in Into the Abyss; Madonna remains the undisputed Queen B, and her directorial skills are still to prove; there's still no other Canadian film festival that comes close to matching TIFF in scope, size, and sheer star power.
We spent some quality time interviewing actors and directors for NIGHTLIFE.CA in Toronto, and we're giving you a first look at some of the interviews you'll read over the next year. From Emile Hirsch to Louis Garrel, from a sex addict to President Obama's sister, from a troubled cult survivor to a girl who fancies hockey goons, we've got you covered. Enjoy!
1. Michael Fassbender
ON SEX AND CENSORS


You remember him from: Hunger, X-Men: First Class, Fish Tank, Inglourious Basterds
Films at TIFF 2011: Shame, A Dangerous Method
Asked about: the silly NC-17 film rating in the U.S., and the speculations that Shame might get it
"I don't know how people choose to make these ratings, all I know is that everywhere I look, in the street, buying breakfast cereal, soda drinks, sex is being sold to me in every single way. I'm at the airport and I'll see these big billboards of this girl in lingerie, so it's everywhere and people aren't dealing with it. We're [Shame] trying to deal with it in a real, honest, intelligent way, Steve [McQueen, director] has really made us question where our moral compass is, how we're actually relating to each other in physical forms and how we're losing that intimacy. So whatever rating people want to slap on it is kind of irrelevant. The fact of the matter is, I felt comfortable doing those scenes with Steve, because I knew it wouldn't be exploitative, titillating or all the usual shit we see when sex scenes are in films."
2. Philippe Falardeau
ON TEACHERS


You remember his movies: La Moitié gauche du frigo, Congorama, C'est pas moi, je le jure!
Film at TIFF 2011: Monsieur Lazhar
Asked about: whether he'd address the theme of xenophobia in adapting Evelyne de la Chenelière's play into Monsieur Lazhar
"I didn't want to go there. In any case, there's already more than enough fear of the other, intolerance, reasonable accomodations and all... We understand that Bachir represents the 'Other', and that, for Bachir, we are the 'Other'. Those things work both ways. But instead of focusing on cultural clashes, I meant for this film to be an ode to teachers. A critique of the school system, sure, but not of teachers."

3. Gus Van Sant
ON MALE CHARACTERS


You remember his movies: Elephant, My Own Private Idaho, Good Will Hunting, To Die For
Film at TIFF 2011: Restless
Asked about: what kind of male protagonists appeal to him
"A lot of the time, in mainstream films, you're setting up your lead character to be some kind of hero, so you're showing them saving a cat from drowning, or stopping a bully from teasing somebody else. They're doing something heroic, which I think is a request from the audience, but also the filmmaker or the executives. Why do we like this guy? Oh yeah, because he stands up to bullies, and he likes pretty girls. They're trying to bond the audience to the character. I'm usually not trying to do that. You'll like my character because he's being himself, not because he has these traits."
4. Elizabeth Olsen
ON TABLOIDS


You remember her as: Mary-Kate and Ashley Olsen's younger sister
Films at TIFF 2011: Martha Marcy May Marlene; Peace, Love, & Misunderstanding
Asked about: what kept her away from films for a long time; why she chose to focus on theatre
"People were really rude to my sisters when I was younger. (...) I think that the main thing that I'm frightened of is that movies lead to tabloid attention, and they create their own stories about people's lives, which don't exist, and then they become part of this fictitious storyboard of characters that we follow. Then people start to think that their lives are for the public. I haven't really experienced any of that; I hope it doesn't, but if it does, I guess you have to figure out how to navigate it."
5. Adam Brody
ON GEEKS AND INDIE MUSIC


You remember him from: The O.C., Thank You For Smoking
Films at TIFF 2011: Damsels in Distress, The Oranges
Asked about: whether Seth, his nerdy and self-deprecating character on The O.C., helped pave the way for the proliferation of geek culture
"I mean, to be fair, Woody Allen did it first. He was womanizing for many years as the ultimate geek – and his early '70s movies were really pervy! – but it's interesting. I think it was a case of right time, right place. I don't think I was the originator of anything. I got in on the ground floor, certainly, it was a happy coincidence. And in the same way indie music has become "mainstream", The O.C. was one of the first shows to use lesser-known bands on a network program. Then, all of a sudden, every show was a soundtrack show. So it was the first in a lot of ways. I also think it was one the first soap operas to have humour. 90210 was kind of funny, but you had much more comic actors and jokes on The O.C."
6. Guy Édoin
ON PASCALE BUSSIÈRES


You remember him for: his award-winning short film trilogy: Le Pont, Les Eaux mortes, La Battue
Film at TIFF 2011: Marécages
Asked about: casting Pascale Bussières
"As soon as I met Pascale, I fell in love. I work on instinct a lot, and I knew right away that she was Marie. Even though she loved the script, she declined twice. The character of Marie is quite complex and explores some difficult areas, and I didn't know if Pascale, herself a mother, would want to go that far. But because I knew she was my Marie, I kept insisting until she said yes! Her contribution to the film is immense. From the very first day of shooting, Pascale embraced Marie and gave her this incredible humanity. Her generosity is incredible and her presence on screen is luminous. I was profoundly moved by her confidence in me; that kind of commitment is rare."
7. Louis Garrel
ON HIS RACY EARLY FILM ROLES


You remember him for: Les Chansons d'amour, The Dreamers, Dans Paris
Film at TIFF 2011: Les Bien-Aimés
Asked about: living up to his on-screen image as an iconoclastic, chain-smoking, sexually adventurous young Parisian
"From my very first roles on, every part that I was being offered had me getting totally naked, masturbating, all kinds of sex scenes, incestuous relationships, and I think that bothered a lot of people. For me, it was quite the opposite: I found it to be mostly amusing. Getting naked on camera, as far back as I can remember...I've never considered that to be difficult or anxiety-inducing. I found it funny. For my American castmate in The Dreamers [Michael Pitt], though, I don't think it was the same. So I think a lot of people still perceive me that way, because of those first film roles I was offered."
8. Alison Pill
ON HOOLIGANISM


You remember her for: Milk, Scott Pilgrim vs. the World
Films at TIFF 2011: Goon
Asked about: how she reacted to news of the Vancouver riots, having just finished shooting Goon
"It's part of this culture where everybody thinks that Canadians are so nice, and there's a certain repression involved, and I think, given the chance, we're as violent and angry as everyone. A friend of ours got beaten really badly, so I don't know what to make of it. Hooliganism is in soccer, and I wouldn't recommend going to baseball stadiums if you're in Boston or New York... It's all over the map, I think it's most shocking that it's Canadian, but it happens everywhere."
9. Emile Hirsch
ON FILM DIRECTORS


You remember him for: Into the Wild, Milk, Lords of Dogtown
Film at TIFF 2011: Killer Joe
Asked about: constantly being challenged by different directors
"The speed at which [Killer Joe director Willam] Friedkin works, I've never worked at that speed. Other directors have different styles – Oliver [Stone, who's directing Hirsch in the upcoming Savages] is a bit more meticulous; he's looking for very specific things, specific moments. But that's a lot of the fun of working with different directors: it's like watching different painters paint. Some people spend forever on one little eyelash, you've got your Caravaggio who's making it look like a photo, then you have some guy who's busting out some crazy, abstract, Julian Schnabel stuff."
10. Marjane Satrapi
ON BIG LOVE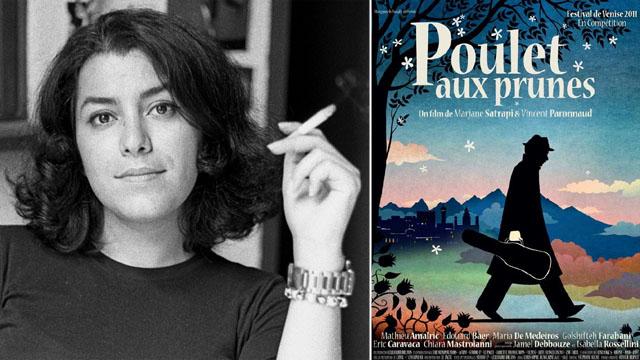 You remember her film: Persepolis
Film at TIFF 2011: Poulet aux prunes
Asked about: the romantic notion of having a character derive his entire happiness from a single object, the violin
"I think it's fantastic that in 2011, while we're making romantic comedies where they got married, had 2 dogs, 2 kids, the suburban house and the 4X4s, or the war movies where the American president saves the world, we can dare to make a film where a man dies from the love of a woman, to have that symbolized by a violin, and that the inspiration of music, of art, and of a woman's love be stronger than anything. And, I assure you, I don't see the world through rose-coloured glasses!"
11. Branwen Okpako
ON PRESIDENT OBAMA'S KENYAN SISTER


You're discovering her because: she made a documentary portrait of President Obama's Kenyan sister, The Education of Auma Obama, as the 2008 presidential campaign was heating up in the U.S.
Asked about: what she observed while filming Auma Obama, in the months leading up to her brother's presidential win
"At one point, Auma said: 'How can I be a role model to young girls from nearby villages and communities that I work in, if I'm the sister to a president? I can't be resting on other people's laurels, I have my own identity.' The irony of the whole thing is that, from a very young age on, Auma made sure she would earn and attain her own identity. She's not just the daughter of the father, or the granddaughter of the grandfather, she's not just an African woman, or Western educated. So she's been doing that her whole life, she comes to Germany, finds her space, makes a name for herself, and then… she becomes the sister of someone."
Toronto International Film Festival | tiff.net