It's no secret the performing arts are inordinately competitive disciplines. Whether you're on the L.A. breakdance circuit auditioning for the next Step Up or an aspiring pupil at the Conservatoire d'art dramatique de Montréal, the odds of you getting ahead aren't exactly in your favour. But that doesn't hold back thousands of local dancers, actors and performers of all stripes from taking a stab at a career under the glare of those bright spotlights.
And while life as a performing artist isn't the most lucrative option for fresh-faced young adults, those who commit to the noble pursuit often produce bold work that's light-years more inventive than what we're used to seeing on the traditional theatre and dance circuit. Our city, with its good balance of highbrow and more marginal cultural fare, seems to value performing arts and encourages up-and-coming talent. Perhaps less so than European capitals, where theatre and dance are seamlessly woven into the cultural fabric, but more than other North American urban centres. Institutions like Tangente (contemporary dance) and Espace Go (avant-garde theatre), both celebrating their 30th anniversary this year, serve as reminders of Montreal's performing arts legacy.
ART FOR ONE, ART FOR ALL
A local choreographer behind the popular Piss in the Pool events with partner Andrew Tay – where they literally take the piss out of contemporary dance and democratize all that esoteric dance vocabulary for us laymen, Sasha Kleinplatz sums it up best. "I'm from Windsor, and in Ontario it has to be a big dance company, like National Ballet, for people to go see a show," she says. "Here you can do something really bizarre and it's not only wackos who are going to come, it's regular people too. I hate to say regular people, but they're the ones who don't have a job in the arts, and they still come to see art."
Here's a newsflash for you and yours: there's a tidal wave of youthful creativity sweeping the city these days; a dynamic cohort of independent-minded folk deserving of your attention in theatre, dance and film. They're a motley crew, a mixed bag of personalities and sensibilities. They juggle many talents, proving to us that it's possible to dabble in acting, writing and dancing all at once, and yet they don't wait on government funds to get their projects off the ground. Some produce work that is inherently political, like spoken word artists Queen KA and Alessandra Naccarato – whose incisive, raw poetry packs a visceral punch. Others operate in an outrageously silly realm, like director/choreographer/performer Robin Henderson, whose Dance Animal troupe sashayed and shimmied its way to festival glory at last year's Fringe and Zoofest. At the other end of the spectrum, choreographer Virginie Brunelle delves into notions of romanticism and hypersexualization in pieces that most definitely leave an impression. For his part, playwright/actor/director Sébastien David explores the limits of human pathos through the theatricality of speech and movement.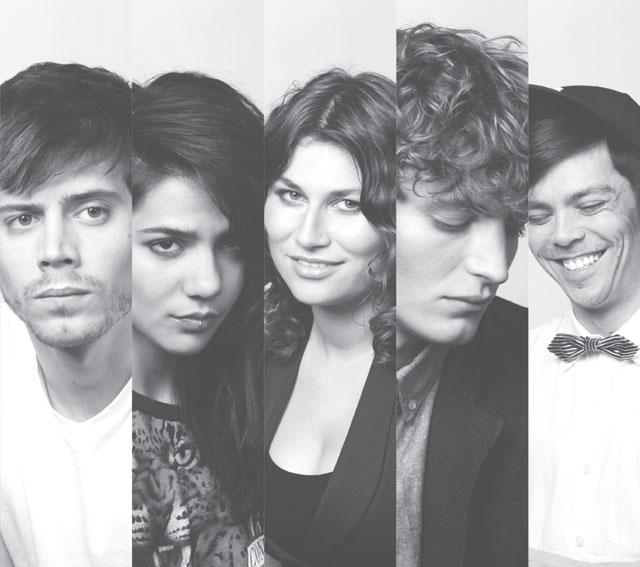 François Arnaud, Clara Furey, Alessandra Naccarato, Niels Schneider and Andrew Tay

TALENT + TIMING – EGO = CANNES?
When I meet our 20 performers at a studio shoot, I'm taken aback by their honesty and humility. They'll readily concede that fate and chance encounters had a lot to do with making it this far. For instance, there's the tale of Niels Schneider, the flaxen-haired charmer who is on a roll with Tout est parfait and J'ai tué ma mère. Our shoot took place only two days after Schneider got the news that his latest collaboration with director Xavier Dolan, Les amours imaginaires, would get the full-blown Cannes treatment. "I met Xavier at the premiere of Tout est parfait, and I had the impression of rubbing a bottle of Scotch, and out came the little genie, Xavier! We've done two films together and it's allowed me to meet a lot of people. I'll be moving to France this summer to work on three projects there, and I owe that to the international success of J'ai tué ma mère."
What has allowed our 20 rising talents to stand out is an explosive cocktail of intangibles: luck, timing, PR skills and business acumen. Oh, and talent – loads of it. As a number of these artists are set to grace the stages of Montreal's spring performing arts fests – Festival TransAmériques, OFFTA and the Fringe – here's our yearbook salute to a class of graduating local heroes.
THEY'RE GONNA LIVE FOREVER
A select group of talented, doe-eyed young'uns join the ranks of working (starving?) artists every year, ensuring the scene never stagnates. The reality alone conjures up fond memories of Hollywood's quintessential performing arts film, 1980's Fame (because when are remakes ever better than the original?) In one of the film's many classroom pep talks, the school's drama teacher cautions his students: "Most actors do commercials to pay the rent, the rest wait tables, clean other people's apartments, live on welfare, and hope. And don't think talent is enough to get you through. You've got to have a strong technique, a good agent and most of all, a thick skin, because now you're part of an underprivileged minority and you're going to suffer."
That ought to be mandatory viewing for anyone entertaining dreams of their name on a Broadway marquee, as perseverance and personal sacrifice become self-evident requisites. In fact, you might be surprised to read that fairly established artists like powerhouse contemporary dancer Dana Michel and actor Paul Van Dyck are still lining up the odd side gigs to make ends meet. For Michel, it's a stint as a hospital secretary, while for Van Dyck – who took home the Revelation prize at this year's MECCA (Montreal English Critics Circle Awards) – it's playing the role of patients to train McGill med students. "It's still performing, right? For years, I was out in Rigaud, helping them train customs officers, pretending to be a 40 year-old Jamaican drug smuggler. I still have fun doing it, whether my audience is a nervous student or 100 people laughing their asses off."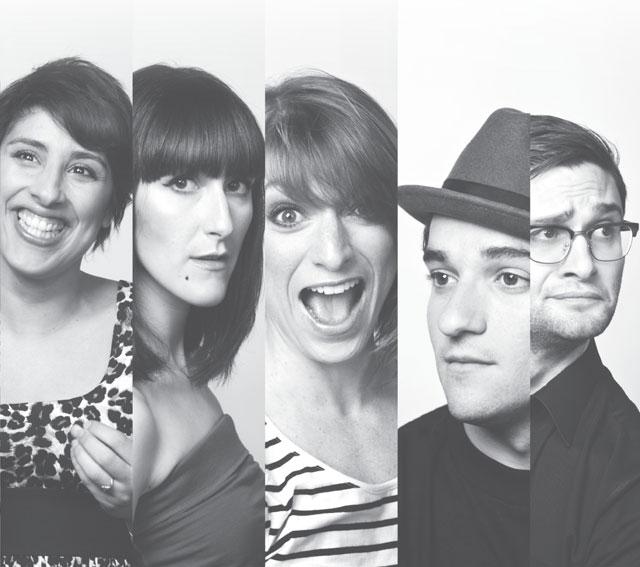 Queen KA, Virginie Brunelle, Robin Henderson, Luca "Lazylegz" Patuelli and Brent Skagford
HOMETOWN HEROES, HOUSEHOLD HEROES
The hodgepodge of local artists singled out by our top 20 as inspirations is nothing short of reassuring, as it confirms that this young generation finds mentors and role models in its own community. Sébastien Ricard, A-Trak, Jay Baruchel, Dave St-Pierre ("He whose knife was not dulled by years of work," muses Emmanuel Schwartz), Denis Villeneuve, Marie Chouinard ("She makes me want to kill myself, vomit and die, I love her so much," gushes Michel), Thee Silver Mt. Zion and Daniel Bélanger are all cited as people who've carved out distinctive, commendable career paths.
For some, like J'ai tué ma mère and Les grandes chaleurs' François Arnaud, his impetus for pursuing the arts is rooted in his teenage years. "In high school, I started doing amateur theatre," says the actor, who just landed his first U.S. production with the role of Cesare Borgia in Showtime's The Borgias, where he'll play Jeremy Irons' cunning son. "As a teen, I wasn't very happy, so theatre became my outlet to let everyone know I existed. After that, it's as if I just tried to honour what theatre had done for me."
For Jesse Camacho, a young John Candy type (the resemblance is uncanny) who carries HBO Canada's Less Than Kind, Jay Baruchel has perfected a formula to which he can aspire. "I think the best thing that was ever done was by Jay Baruchel, who went down to L.A., made his name there, and now lives in NDG where he grew up. And he has a great career. So I think I'm going to do the Baruchel thing."
Camacho is one of many artists in our roster who is the offspring of established local actors. Clara Furey, a dancer and musician who'llbe performing a choreographic concert of sorts by Benoît Lachambre at the FTA, fought hard to disassociate herself from well-known mom Carole Laure. She now looks back on that period of teen rebellion with lots of self-deprecating humour. For his part, Maxime LeFlaguais, son of Michel Côté and Véronique LeFlaguais, has a key role in this summer's surefire hit Piché: entre ciel et terre…with his father! "Like Sophie Lorain said on Tout le monde en parle, it's not because you have notoriety that you're not an asshole. And I can say with confidence that my parents are defi nitely not assholes," jokes LeFlaguais. "I see my dad on a film set, and he's such a role model, I have so much to learn from him."
It wouldn't be premature of us to venture that one of our emerging artists has already inspired thousands of his own, most recently during his groundbreaking performance at the Paralympic Games' opening ceremonies. B-Boy Luca "Lazylegz" Patuelli – who suffers from a rare condition called arthrogryposis that affects muscular growth from the waist down – has been featured on every top TV draw from The Today Show to America's Got Talent. He's currently building a crew of disabled dancers called Ill-Abilities, which he sees more as a movement than a dance crew. "It's just to show society that people with disabilities aren't at home sitting, playing video games, or chatting on Facebook. They're out doing what they want to be doing. There's no real disability; the only disability is in your mind."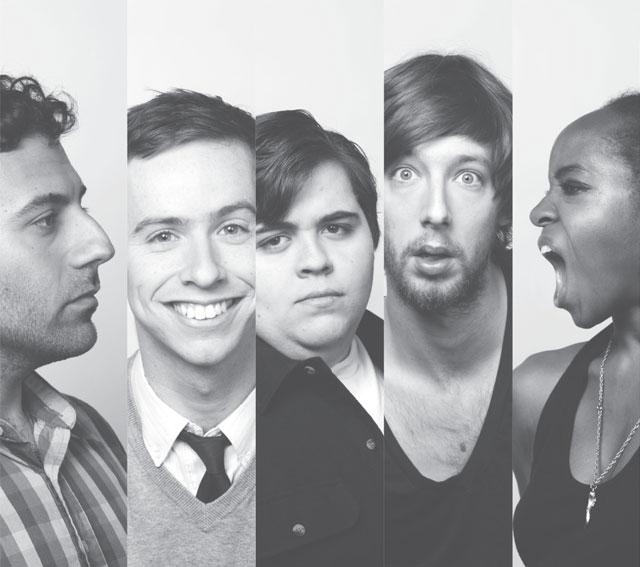 Etan Muskat, Dan Beirne, Jesse Camacho, Emmanuel Schwartz and Dana Michel
GOING THE MILE
Last fall, reigning local improv threesome Dan Beirne, Brent Skagford and Etan Muskat made a big splash in English Canada with their uproarious web series The Bitter End, which featured their trademark Mile End slacker characters and sketch comedy antics. Yet it remains largely unknown with francophones. "It's funny because there's a French improv league at Lion d'Or, and we go to Théâtre Ste. Catherine, which is a 10-minute walk away. And rarely do those worlds ever cross," remarks Muskat.
To illustrate just how self-reliant the Mile End scene can sometimes be, the guys tell me about this strange man they run into… all the time.
DB: It's funny, on our way over here, we saw a guy who we've never seen leave the same three-block radius.
BS: His apartment and his job and where he goes to drink are all, I think, in the same building.
EM: I think if we ever saw him, like, in Verdun, we'd go up to him and say like: "Are you okay? Do you know what bus to take?"
DB: So I think yeah, the Mile End is as much of a bubble as you make it.
While there's definitely some truth to the claim that there's little overlap between the French and English performing arts communities, collaborations between emerging artists on either end of the language divide are more commonplace with the younger generation. Just look at Jacob Tierney's casting for The Trotsky and Notre-Dame-de-Grâce, coproduction partnerships like those between the Segal Centre and Théâtre du Rideau Vert, as well as many initiatives sprouting up in dance.
TALKIN' 'BOUT MY GENERATION
For playwright and actor Emmanuel Schwartz, who founded Abé Carré Cé Carré Compagnie de Création with Wajdi Mouawad, there's infinite potential and timeliness in this idea of cultural fusion. "The strength of our times lies in this idea of métissage. It's what characterizes our generation and it's what will make our era unique, I believe. We've arrived at a time where the question is being asked everywhere, both in culture and in social work. We've exacerbated the question, and Montreal kind of finds itself at the heart of the matter, with Canada and Quebec positioning themselves as lands of refuge. Now it's time to ante up."
One only needs to look at all the beautiful mugs splayed across this magazine cover to realize that these artists make up a veritable community – and one which isn't split along linguistic lines. Évelyne [Brochu] prepped François for his The Borgias audition tape. Dana and Andrew are BFFs who often have late-night sessions of groovy music appreciation. Clara's cousin went to high school in Toronto with Alessandra, who invited Queen Ka to perform at her slam poetry nights, who is featured in Dan, Brent and Etan's The Bitter End series, who know Robin and her Dance Animal creatures, and the beat goes on.
Actress Évelyne Brochu, whom clued-in Anglos will recall for her poignant turn as Karine Vanasse's roomie in Polytechnique (and Francos will know as the impulsive Joliane on Radio-Canada's whipsmart Aveux), is inspired by her peers' desire to confound expectations, challenge themselves and do good work. It's a bare-bones philosophy that all 20 emerging artists seem to agree on: if you want it, do it. Otherwise it'll waste away. "We might well be in an era of cynicism, but if I compare our generation to the previous one, we're so proactive," says Brochu. "We work to the height of our passions and know it takes a lot of work, but there's something fiery about all these disciplines merging. We're charging straight ahead. I admire my generation a lot for that. There's something less blasé, less tortured. It's really inspiring. There's electricity in the air."
***
Read individual profiles of our Class of 2010 online as of Wednesday, May 12. Artist interviews will be published throughout the month.

1. Évelyne Brochu, la femme à marier
2. Dana Michel, the warrior
3. Virginie Brunelle, la coqueluche
4. Niels Schneider, le ravissant
5. Andrew Tay et Sasha Kleinplatz, les inséparables
7. Alessandra Naccarato, la renversante
8. Robin Henderson, la puissante
9. Jesse Camacho, the whiz kid
10. Sébastien David, le charismatique
11. Emmanuel Schwartz, the mastermind
12. François Arnaud, the valedictorian
13. Maxime LeFlaguais, the patron of the arts