A Fine Arts undergrad at Concordia, photographer Oscar Oliver's growing body of work is built on the simple powers of visual negation and multiplication. Whether his subjects are depthless and uninhabited urban landscapes, faceless and defaced self-portraits or self-reflexive studies on public anonymity, his work takes on an eerie quality and a dark humour whose uncanny whole is greater than the sum of its parts. With interests in suicidal surrealist poets and macabre, hyper-realist photographers of questionable personal sanity, Oliver's own bold style no doubt taps into a fascination with a dark undercurrent in art and literature. Here's what Oliver had to say.
My favorite object :
A Mac.
My current obsession :
Death in Mexican culture.
My favorite place :
Any movie theater in town.
Can everyone make art?
Yes, absolutely! However, it does not mean that anyone can be considered an artist.
Best book no one's ever heard of :
Agence Générale du Suicide (Jacques Rigaut).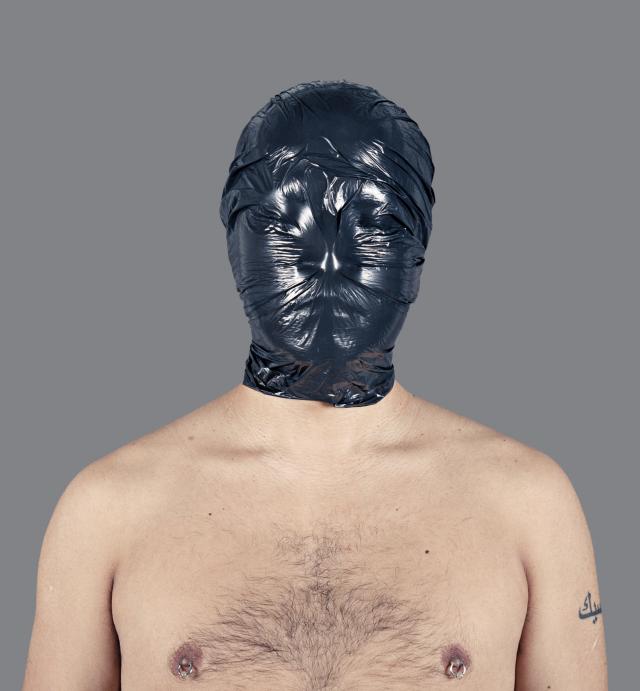 Oscar Oliver, 2010. Project: Das Es/Id. Title: Plastic.
Archival Inkjet Print 33" x 37"

The commercial art world : necessary evil or source of validation and inspiration?
Necessary evil, of course.
Most overrated artist :
Jeff Koons.
Most underrated artist :
David Nebreda (Spain).
One day with a historical figure : who do you choose and what do you do?
Get trained by Ernesto Guevara during the Cuban revolution.
Can art go too far?
Any artist can potentially go too far, just ask Pierre Pinoncelli… but art per se, no.

Oscar Oliver, 2010. Project: Monstrum. Title: Nutella.
Archival Inkjet Print 40" x 44"

Best place to see art in Montreal :
The Belgo Building.
My strength :
My cultural background (Mexico).
My weakness :
My Bachelor of Arts in Psychology.
Art school : wise investment or waste of time and money?
A place full of bullshiters, wannabes, trendies, gossip and headaches… your ultimate friends. Definitely, a wise investment.
Montreal is :
A manic-depressive patient running out of pills, love it!

Oscar Oliver, 2010. Project: Monstrum. Title: Bananas.
Archival Inkjet Print 40" x 44"

Best new trend in art :
Death and disaster in contemporary art.
Worst new trend (in anything):
The Hipstamatic and the re-enactments/remakes.
(My) life is :
Like a revolver loaded with just one bullet.
(My) Art is :
Quite useless.
Words to live by :
Essayez, si vous le pouvez, d'arrêter un homme qui voyage avec son suicide à la boutonnière. — Jacques Rigaut



Oscar Oliver, 2010. Project: Monstrum. Title: Cabbage.
Archival Inkjet Print 40" x 44"


Take a look at Oscar Oliver's Das Ed/Id photo series on display now as part of Art Matters 2011.
Defaced
VAV Gallery | 1395, René-Levesque W.
Free exhibition until March 13 | oscar-oliver.com