Montreal is a city in flux: the effects of industrialization keep altering the movements and settlement of its population. Emblematic of this change is St Henri, a working class neighborhood and one of the first to be established along the Lachine canal.
On September 5th 1962, a group of talented filmmakers walked its streets to capture a day in one of Montreal's most enigmatic communities. Forty-eight years later, writer/director Shannon Walsh came across this long-forgotten film gem and decided it was time to reintroduce St-Henri into Quebec's cultural imaginary.
Fascinated with the concept behind the original film, Walsh surrounded herself with 16 talented documentary filmmakers (Anaïs Barbeau-Lavalette, Claude Demers, Tracey Deer and Sylvain L'Espérance among them) to devise a tribute to it, St-Henri, the 26th of August, which hits theatres this Friday. She took the opportunity to explore certain social issues that the neighborhood brought to her attention.
Production Still,
À St-Henri, le 26 août
A political artist
An activist spirit has guided Shannon's intellectual and professional life to many projects. Her academic background includes sociology, women studies, film and education. But beyond schooling, Shannon has a discerning eye and an acute appreciation of beauty. Thus, when she screened the landmark 1962 ONF documentary À Saint-Henri le 5 septembre, it instantly caught her attention – both because of its artistry and because the subject touched upon certain issues she had previously wanted to explore. "As soon as I saw it, I just thought 'this is it': it was a good reflection of Quebec culture, but it also touched on some interesting aspects about community, territory and collectivity," she points out.
Shannon knew she'd want to find the most talented documentary filmmakers around, a crop of gifted helmers that she'd see eye to eye with. "I chose people based on feeling and affinity to their work, whether it was a political thrust or an approach to making films. I wanted to find people who would feel just as driven by the concept as I was," she explains.
The team worked hard to shed light on many of the most apparent features that make St-Henri a unique place. "I think there are a lot of exciting parts to how it has changed beyond the impacts of gentrification, for example the growing immigration and how that has given it [the St-Henri neighbourhood] a lot of character," she remarks. "I think the most fascinating thing about this place is the way people interact peacefully with one another and a real sense of community endures despite the passage of time or territorial decay."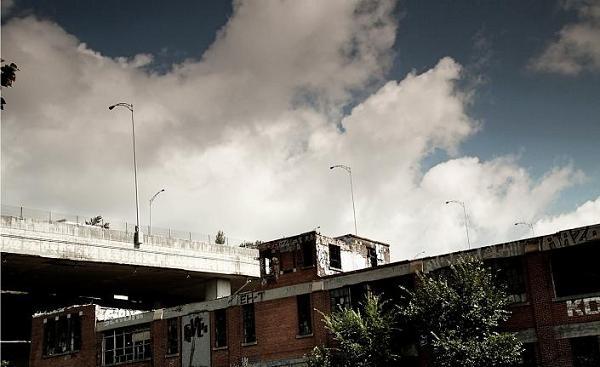 Production Still,
À St-Henri, le 26 août
The community of St-Henri
Shannon and her team gave themselves 24 hours to capture the entirety of their footage. Although each filmmaker had the opportunity to get acquainted with their subject(s) in the weeks leading up to the shoot, they all agreed to film over the span of a day. The idea behind this time constraint was to employ some cinema vérité stylistic guidelines in an attempt to produce the most authentic account of daily life in St-Henri as possible.
"This was not meant to be a reality show about St Henri; this was merely a version of what it is. We tried to give people lots of room to talk about their own lives and let the viewers experience their world for a brief moment," says Shannon.
Among the many stories that find their way into the film's narrative thread, there is Doris, who has always lived in St Henri and now fills her days collecting empty bottles around the block. There's Belinda, the hairdresser who immigrated from Togo and rapidly became a part of the community, and Baby Face, a young Canadian boxing champion who trains at the gym just around the block.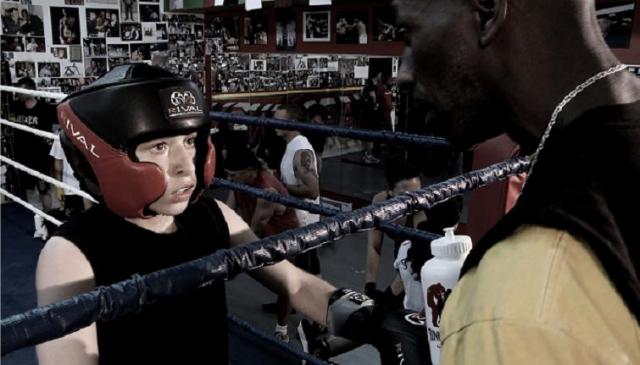 Canadian Boxing Champion Baby Face, photo taken from production
A talented team
Shannon Walsh
and producers
Sarah
Spring
and
Selin Murat
sought out Mile End music maven
Patrick Watson
to provide a score that would do justice to the documentarians' St-Henri stories. "Patrick's music is integral to the film. It was such a huge part of creating the tone and the mood that we wanted to go for [...] I think cinema vérité purists might not like the effect of making such a musical film, because it takes away the concept of 'this is reality'. But this version was merely our interpretation that comes out of our love for that neighborhood. I think Patrick's music was able to translate what we wanted to say."
"I think that the fact that 60% of the crew were women really did affect the way were able to make the film. There was this spirit of collaboration and mutual support and sensitivity. I don't know how much you make of it or you don't, but some people think you can really tell there were women behind the storytelling," Shannon remarks.
"There are just so many talented people in this city and it is such a joy to work with them," she remarks. St Henri the 26th of August is only the first part of a trilogy Walsh is working on, and while she claims it to be merely the team's understanding of a placethey love, their authentic approach allowed the 85-minute doc to communicate the neighbourhood's richness: a place that is in constant flux yet solidly anchored in its past, a place that is neither rich nor poor and where a strong sense of collectivity endures.