Having more than 15 years of experience in the restaurant business, local mixologist Brahm Mauer has explored the many facets of the industry before launching his own bar service company. Starting off as a dishwasher and climbing his way up little by little, Mauer's business is on its way to becoming the 'go to' bartending service in Montreal, focusing exclusively on mixing innovative martinis. "We are not attached to any catering, we are strictly bar, which I think helps us focus more on new recipes. More and more, clients are asking for personalized drinks and if we can come in and fulfill that one and only desire, we will be the best at doing so," remarks a confident Brahm as he talks to NIGHTLIFE about his signature drinks, the company's goals and what makes event planning so much fun.
How did you develop your style?
Every bartender, in their own way, is a mixologist. Anyone who is willing to be creative and experiment with different flavors can be one. There are different timing rules, such as making complex cocktails for those sitting at the bar looking to relax for a while and those at big events where people just want a quick mix. I took the martini road because it requires a shake or two but you can still have a lot of fun with it and be creative.
How do you come up with ideas for new drinks?
I often toy around with friends who are in the same business about new ideas and we spend an afternoon just mixing and creating new drinks. I think more and more people get very inventive when it comes to preparing drinks and you have to experiment all the time if you want to stand out, making sure your drink will be remembered.
What mix, juice or shaker are you infatuated with at the moment?
White cranberry juice and frozen raspberries are very popular this summer. It gives drinks a refreshing and unique twist. Chunky Berry is our most popular drink and it is famous for its fruity and reviving taste.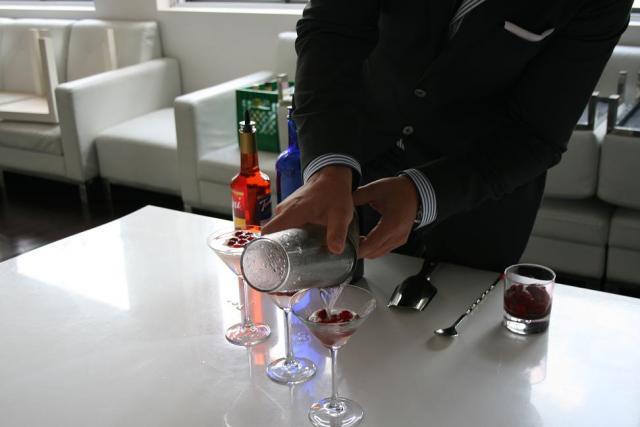 What is the most creative drink you've tried so far?
The last martini I tried was a Greek martini. Which had feta cheese and kalamata olives. It was kind of an appetizer more than a drink, it really blew my mind.
What is your favorite place to go out for drinks?
I am a regular at Koko bar at the Opus Hotel. My friend Laurence mixes there and sometimes we spend afternoons coming up with new stuff.
What is your favorite event?
I would sayweddings. It's good spirits, a joyous event and everyone is always happy. It's nice to be a part of that.
What are the advantages and disadvantages of working in Montreal's event industry?
I think Montreal is a great city for this business. We have great nightlife, a great ambience and a strong personality. We aren't listed as one of the best cities in the world for nothing. I would surely love to bartend in Vegas or New York one day, but there is a lot of potential in this city.
What do Montrealers like?
In terms of drinks, there is a growing demand for personalized and more elaborate drinks these days, as opposed to the lime, juice and gin cocktail. In terms of the event industry, I have noticed that Montrealers often like to outdo each other. When they are planning an event, they want to have a bigger and nicer one that their friends and I am happy to be around to help them achieve that
What is your bartending philosophy?
I don't think there any rules of thumb or philosophy. We just want to create memorable experiences. Our staff is comprised of charismatic and professional people, who are making sure that everyone around is having as good a time as they are.

Mixologist Brahm Mauer | brahmmauer.com