This week, It Could Get Worse debuts a batch of videos featuring a collection of Omnibusters voicing their concerns over the Conservative government's looming C-10 Bill. It Could Get Worse defines itself as a "collaboration between Media Collective ForgetTheBox.net and writers, organizers, and concerned citizens" driven by common goal to put a stop to the government's Omnibus Crime Bill.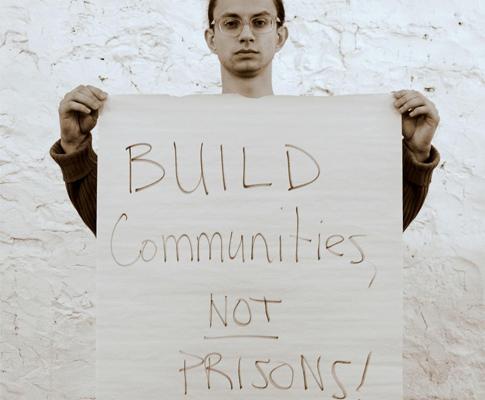 Omnibuster Antonio Bavaro, actor, student, and organizer (Source: itcouldgetworse.com)
It's no secret that our current government is keen on pouring money into building new prisons. However, if you haven't yet heard about the draconian bill, it's chock-full of scary stuff that would cause a fundamental shift in Canada's criminal justice system. The litany is too lengthy to outline here, but some of its agenda points include new and increased mandatory minimum sentences, alterations that would further challenge Canadians detained abroad trying to serve their sentences back home, and a slew of other changes that row against the evidence that proves that a prison/punitive-focused justice system fails at all levels. It's no wonder that Quebec, Ontario, and Newfoundland are refusing to fund a bill they all vehemently oppose.
To learn more about It Could Get Worse, view the Omnibusters videos, or to find out how to make your own video, check out itcouldgetworse.com
On Thursday, November 24, the Prisoner Correspondence Project, Certain Days, Kersplebedeb Publishing, and QPIRG Concordia will host the Montreal book launch of Captive Genders: Transembodiment and the Prison Industrial Complex. This potent anthology of essays is a new release from AK Press, a worker-run publisher organized around anarchist principles. The anthology focuses on the complex intersection of transgender, gender variant, and queer identities as experienced in a range of correctional facilities within the maw of the prison machine. Edited by Eric A. Stanley and Nat Smith, Captive Genders illustrates how vital trans/queer liberation is to the prison abolition movement, and the book explores issues of surveillance, policing, incarceration, solitary confinement, and proper health care.
Captive Genders features work from current and former prisoners, activists, and academics. Some highlights include Michelle C. Potts' "Regulatory Sites," which looks at the prison system's grossly inadequate handling of HIV/AIDS health issues, Cholo's "Exposure," a concise condemning of the sexual violence in corporal institutions, and blake nemec's "No One Enters Like Them," a conversation with Kim Love, who sits on the board at the Transgender, Gender Variant, Intersex Justice Project.
The Montreal launch will feature excerpts from the Prisoner Correspondence Project's article "Imprisoned Pride," and a presentation by a trans guy incarcerated in the Montreal area's Joliette prison, who will be speaking about his experiences in a gender-segregated prison environment.
Captive Genders book launch
Thursday, November 24 at 6:30 PM
The anthology will be on sale at a discounted price, and snacks will be on hand.
QPIRG Concordia | 1500 de Maisonneuve W., suite 204 | akpress.org