When I meet actor Jamie Bell (Billy Elliot, Hallam Foe, King Kong) on a stormy Friday afternoon at Montreal's swanky Le St-James Hotel, the affable young Brit is bustling with energy, pacing around the suite and enjoying what may be his final days of relative anonymity, as he puts it. "Sure, I play Tintin, but I can still run across the street and buy a croissant without being recognized," he quips.
The 25-year-old should savour those last few paparazzi-free pastry purchases while he still can, as Steven Spielberg's 3D adventure flick The Adventures of Tintin: The Secret of the Unicorn has already grossed over $200 million at the box-office in Europe, the Middle East and Asia. The U.S. notoriously remains the only market where the exploits of an intrepid, virtuous young Belgian reporter and his loyal fox terrier Snowy (Milou for the French) fall on deaf ears. This explains why producers of this mega-budget holiday beast want to build buzz overseas before introducing their comic book adaptation to a crowd of newbies to Captain Haddock, Bianca Castafiore and the gang.
"This is something that is definitely beloved by a lot of people in very specific places in the world," says Bell. "I think the most important thing for us was that the film get the stamp of approval from the people who made it what it is. As much as it was scary, the responsibility was huge and Tintin was not an easy character to bring to life, I think we did a pretty good job."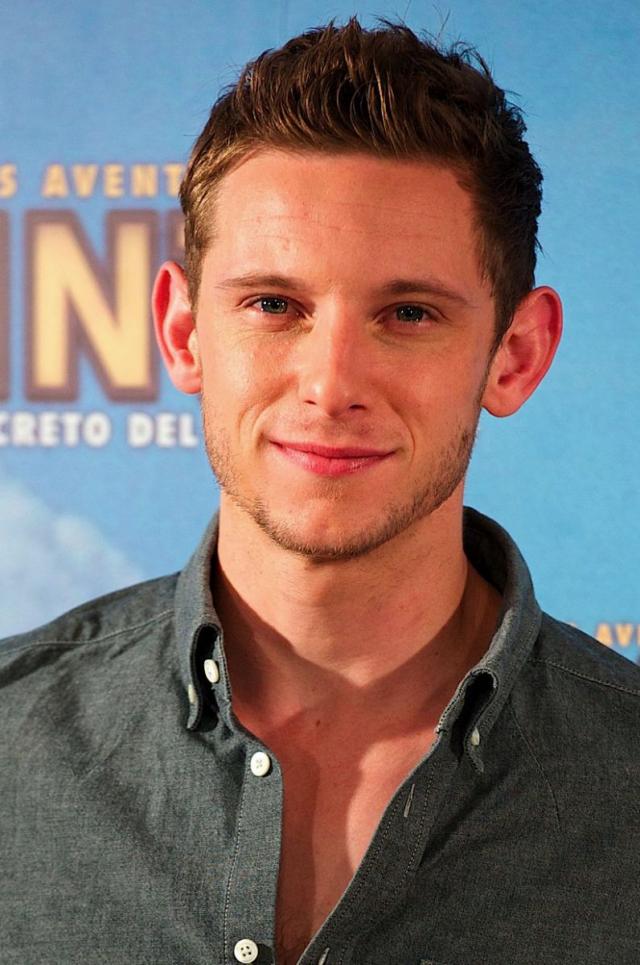 Tintin, the enigma
For over 80 years, comic book fans from Marseille to Manila have been captivated by the dapper young sleuth's globetrotting adventures, as the boy wonder in question can be counted on to get to the bottom of serious crimes and bring justice to all. After more than 20 years of trial and error, Spielberg now finally brings Belgian artist Georges Remi (better known by his pen name, Hergé)'s colourful characters to the big screen using performance-capture technology and a cast that also includes Andy Serkis, Daniel Craig and Simon Pegg. But as Bell readily admits, Tintin may have a distinct sense of fashion – trousers, iconic blue sweater, scarf and blonde fauxhawk – but he sure isn't an easy guy to pin down.
"I think there's a lot of mystery about him that you kind of have to maintain," argues the actor, who gushes about being a "massive" Tintin fan since the age of 8. "You don't really know a lot of about him, to be honest – What's his last name? Does he have any parents? Why is his only friend a dog? Because that information isn't there, you have to rely on the other things that you do know about him: he's intrepid, he's curious, he's fearless, he has heroic instincts, he's a beacon of excellence for children, his moral compass is pointing in the right direction. All those are great things, but they don't make a character. So I think the most interesting part of the character is the unknown. There's a lot of mythology around him and you can go pretty deep into the rabbit hole about it, but it's a kids' film, we're all here, we're all queer, and it's all good."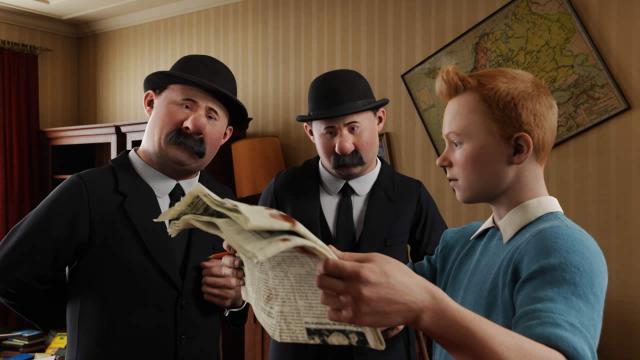 Tintin the twink?
While we're on the topic of queer, I ask for his take on the longstanding speculation that Hergé's androgynous, romance-deprived, debonair journalist might be gay. Women and girlfriends are conspicuously missing in action from the picture, with only 8 of the 350 characters in the comic book series being identifiable as women. And I mean, he IS living with a burly sailor…
"I mean, I think that there's always been that conversation; there's always been that argument," ponders Bell, taking a genuine interest in the question. "No one has ever said no to that argument; there's nothing definitive, so I mean, it's up in the air. It's an interesting question, because there is a lack of women and females in the entire Tintin universe; there's only one and she's represented as this annoying person who is singing all the time and bugs everyone [Ed's Note: La Castafiore]. So there's more mythology and curiosity about that. In all fairness, marriage and relationships aren't really on his radar, though; he's got bigger fish to fry and a larger treasure to find," jokes the actor.
Spielberg's big screen take on Tintin is actually a combination of three Tintin books: The Crab with the Golden Claws, The Secret of the Unicorn and Red Rackham's Treasure. When I ask Bell if he's comfortable with words like 'sequel', 'franchise' and 'Daniel Radcliffe', knowing all too well that he could be playing the mysterious boy detective for years, he appears entirely untroubled. "It just happens and you have to deal with it. I can't have ownership over it, like I don't own Tintin. I just had the pleasure of playing him. If I become forever associated with Tintin? That's not a bad thing at all, as it means I've affected people's lives to whatever degree. I've dealt with that for over 10 years, so if anyone is prepared to deal with it, I think I would be a good candidate."
Teary-eyed Maple Leafs
Bell is of course referring to his breakout turn at the age of 14 in the runaway indie hit Billy Elliot, the poignant tale of a shy boy who loves to dance. Bell's training in dance actually helped him nail the Tintin part, as it involved fairly demanding physical work and a certain fluidity in motion. Looking back on Elliot, Bell points out how people still regularly come to him with feedback about the film. "I think it touched people from all walks of life. I was at a Maple Leafs game the other day and I met a big backroom guy, who took me down to the gentlemen's quarters, and was just telling me that all the guys there loved that movie so much, and cried at the movie. We're talking about guys in suits at a hockey game, here! Like Tintin, I feel Billy Elliot touches all people; the characters have this universal appeal to them."
The Adventures of Tintin: The Secret of the Unicorn | Now playing in Quebec theatres