Fifteen solid previous editions and the title of "the world's largest genre festival" still don't suffice in drawing in certain reluctant Montrealers to Fantasia, which frankly is a shame. Because from the total absence of film snobbery and the frightfully good line-up to co-festival director Mitch Davis' signature dark locks and audiences' natural inclination to turn every screening into a Rocky Horror-like interactive happening, what's not to love about this festival?
It's been a week since Fantasia officially got its 16th edition underway, and we've compiled a few weekend suggestions for both fanboys and those who think it's too manga, martial arts and swashbuckling-heavy for their taste. With over 160 feature films unspooling until August 9, there's something for every cinematic palate in here – sleepwalking cannibals, starship troopers and nameless gangsters. So just surrender to your deep-seated desires and unleash that inner enfant terrible, already.
Friday, July 27
My Amityville Horror
Dir.: Eric Walter (USA)
5:05 p.m. | J.A. De Seve Theatre

Eric Walter's eerie documentary revisits what's arguably the world's most infamous haunted house tale, The Amityville Horror – first revealed to audiences care of author Jay Anson's eponymous book, which then spawned 10 different horror film renditions between 1979 and 2011. For those in need of a refresher, a young Ronald DeFeo shot six family members to death in 1974, at 112 Ocean Avenue in Amityville, New York. One year after the gruesome crime, the Lutz family moved into that very house…only to escape 28 days later, claiming supernatural occurrences and paranormal trauma had compelled them to flee.
Now, for the first time in 35 years, Daniel Lutz, who was eight at the time his family moved in, recounts his version of the grisly haunting. What's it like growing up to see your family's traumatic experiences with the occult turned into an international media circus that drives popcorn sales at the multiplex? Beyond psychological scarring, Daniel also makes surprising claims that the house was perhaps not haunted, but rather that his reviled stepfather's ghostly encounters were to blame for any curse on the family.
Christiane F.
Dir.: Uli Edel (Germany)
8:30 p.m. | Cinémathèque québécoise


If your idea of a stellar drug-laced picture includes Requiem for a Dream, Trainspotting or Drugstore Cowboy, Fantasia and the Cinémathèque québécoise invite you to take a trip down memory lane with their screening of the 1981 German classic Christiane F. Fantasia programmer Kier-La Janisse goes as far as to describe it as "the most uncompromising drug film ever made." Based on an autobiography (ghostwritten by two magazine journalists), Christiane F. recounts the chilling true story of a 12 year-old West Berlin teen and her struggles with heroin addiction over the three years that followed, as she became a junkie and prostitute operating out of the area's then-largest train station, Bahnhof Zoo.
In a classic effort to depict teenage reality as authentically as possible (pre-Larry Clark, pre-Gus Van Sant), director Uli Edel cast underage high schoolers to play the gloomy parts, and a then-14 year-old Natja Brunckhorst for the lead role (studios have legal clauses to prevent such creative "oversights" nowadays). Christiane's favourite singer at the time, Mr. David Bowie, appeared in a concert scene and provided the soundtrack to the film. Unsurprisingly, the bleak tale led many youths to romanticize Christiane's delinquent plight, much like a later generation would romanticize the sordid heroin exploits of Trainspotting's disaffected Scottish youths (and would give Ewan McGregor his big break). Sad reality check: Christiane, who apparently still lives off the royalties of the book (translated into numerous languages), still struggles with addiction...
Saturday, July 28
V/H/S
Dir.: David Bruckner, Glenn McQuaid, Radio Silence, Joe Swanberg, Ti West, Adam Wingard (USA)
9:10 p.m. | Concordia Hall Theatre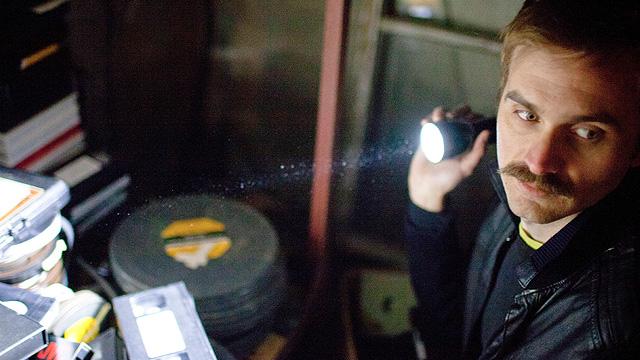 In the grand tradition of found footage fright fests à la Blair Witch Project, Project X and Cloverfield, V/H/S is a voyeuristic anthology feature showcasing the work of six acclaimed directors in lo-fi terror. The narrative thread that brings the various POV short films together involves a gang of repulsive low lives who specialize in breaking and entering. The lewd crew burglarizes a house in search of a VHS tape; they stumble upon a corpse resting on a chair, facing a stack of TVs and VHS cassettes. As others explore the house, one of the cronies watches each of the tapes, revealing a string of "found footage" films that include a doomed vacationing couple, horny male friends inviting spooky seductresses to their hotel room, a Halloween party gone awry, camping teens with a virtual bull's eye painted on their tent, and a romantic Skype chat that takes a turn for the tragic. If you've ever thought about recording those intimate life moments for posterity, V/H/S might have you reconsider that decision…
Zombie 108
Dir.: Joe Chien (Taiwan)
12:00 a.m. | J.A. De Seve Theatre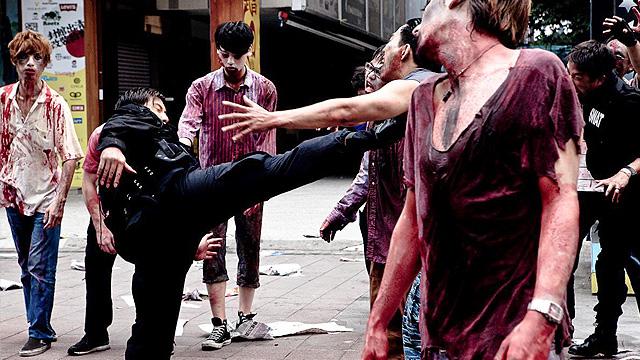 It wouldn't be a proper Fantasia list without at least one flesh-munching entry. Zombie 108's marketing campaign pegged it as "the first genre movie combining apocalypse and zombie in Chinese movie history", and while we're not quite sure what kind of praise that calls for, expect graphic carnage, hordes of slow-moving undead, an outlandish cops-versus-gangsters-versus-pervert-versus-zombies storyline, a generous serving of sexploitation and even some martial arts and parkour thrown in for good measure.
The story? Oh, right… Something about an atomic virus that's swept over Taipei and turned the city into a post-apocalyptic breeding ground for corpses with an endless appetite. As SWAT teams move in to oversee the government-issued evacuation, cops quickly align themselves with the city's seedy gangster underbelly, as both factions are under attack by those aforementioned hungry undead. The creepiest thing about the whole film might just be that the sick, murderous pervert who captures our pseudo-heroine Linda (played, of course, by model Yvonne Yao) is allegedly played by the filmmaker himself, operating under the pseudonym "Chein Jen-hao"… Eek.
One question remains: are Taiwanese zombies' dietary habits any different from those found in any run-of-the-mill Night of the Living Dead rip-off?
Sunday, July 29
The Mechanical Bride
Dir.: Allison de Fren (USA/Japan/Germany)
1:05 p.m. | J.A. De Seve Theatre


While The Mechanical Bride is pure documentary, it might just be the closest thing to sheer discomfort one is likely to experience at Fantasia this year. The far-out fascination a growing number of people (predominantly men) entertain towards their manufactured dolls has already inspired directors like Craig Gillespie (Lars and the Real Girl) and Hirokazu Koreeda (Air Doll) to delve into this marginal community of men who feel sexually attracted and/or emotionally connected to dolls.
In this eye-opening investigation of artificial love, De Fren juxtaposes footage from this life-sized doll industry with sci-fi film clips and animations, making the eerie suggestion that we may be inching closer to that (dystopian?) future that was once solely the product of our fertile imaginations... De Fren speaks with photographers, scholars, inventors, an affable mannequin repairman and a few erotic toy owners about the ongoing technological advances in sex dolls/companions. Given that customers can customize any aspect of the doll's anatomy to suit their given desires, is this doll-making business reinforcing female objectification? No easy answers to be found here, and de Fren shrewdly avoids picking a side.
Fantasia is part of Festimania, the Montreal Collective that offers you five continuous weeks of festivals this summer. The Festi+ pass will give you lots of perks and privileges such as free screenings, so you might want to check it out!
Fantasia International Film Festival
Until August 9 | fantasiafestival.com