Though few would argue the benefits of a good party, perhaps there's more to life than endless hours of big-ticket DJs and seas of nondescript tank tops. Luckily, there's Pervers/Cité, a collaboratively organized summer festival that connects a range of queer communities in Montreal. Now in its sixth year, the festival revels in the radical and incendiary origins of pride, where resistance and community building are championed and celebrated. What makes Pervers/Cité such a wonderful eleven days is its abundance of diverse events marked by a party politic. There's definitely dancing and cruising to be had, alongside art shows, performances, marches, punk shows, readings, workshops, book fairs, and tea parties.
To make connections and further explore all the goodies that Pervers/Cité offers, check out their full calendar. In the meantime, here's a list of events that caught our attention.

Videographer: Michael J. McCarthy
Self/Lust: A 2-qtpoc performance and art show
Billed as an intimate evening of performance and art by artists whose work does and undoes self/lust at Studio XX, this event includes appearances by singer/rapper Hua Li, author Prantha Lor, as well as the multi-lingual musical stylings of SIKA, the interactive media/not quite theatre/not quite dance of Kama La Mackerel, plus the poetry of Meg Land, whose artist biography notes the accomplishment of giving birth to the New Kids on the Block. Both event curators, Colleen Young and Ryan Kai Cheng Thom, will also present work. The overall aim of the show is to "showcase art by queer people of colour (lgbt2-qtpoc) who have multiple identities and experiences of marginalization." Self/Lust is part of both Pervers/Cité and 2-qtpoc montréal, a festival that also has a gallery show at articule curated by artist and Self/Lust participant Elisha Lim. "Dedicated to 2-Spirit indigenous queer and transfolks of colour, with gorgeous art, oral history, artist talks, community lectures, in different languages and from different continents," 2-qtpoc montréal will have its own official launch, curator welcome, and gallery tour by Lim at articule on Friday.
2-qtpoc: Curator Welcome and Gallery Tour
Friday, August 10 at 7 p.m.
articule | 262 Fairmount
Self/Lust
Saturday, August 11 at 8 p.m.
Studio XX | 4001 Berri, room #201
It Gets Better... Organized: Flash Demo How-to
Through the tactical use of concise statements and strategic visuals, flash demos have a rich history of calling attention to any variety of pertinent socio-political issues. The VidéoQueer project, which germinated in a collaboration between Project 10 and Radical Queer Semaine, wants to bring folks together for a group discussion on the history of flash demos and a hands-on how-to workshop. Hosted by Jordan Arseneault and Bruno Laprade from VidéoQueer/Project 10/Radical Queer Semaine, a recording of the event will go up on videoqueer.org "in order to be used as a tool for budding queer activists looking to make a splash for their cause!" As such, the only condition for being a part of this workshop is a willingness to be filmed.
Sunday, August 12 from noon to 5 p.m.
ACCM | 2075 Plessis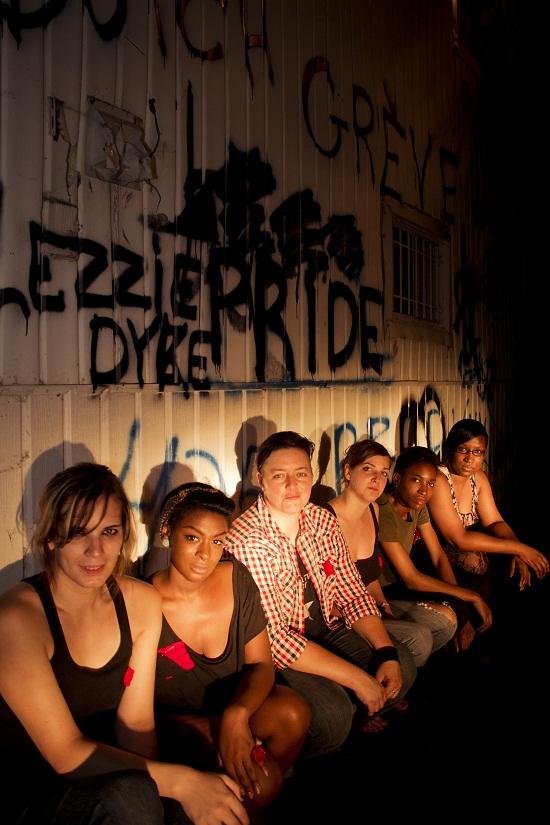 Photo: Rachel Vanier
Radical Dyke March/After-Party
August 14 is going to be a momentous day—it will mark the first-ever Radical Dyke March in the history of Quebec! Inspired by similar initiatives in 1976 and 1983, this particular march will be the first of its kind in Montreal, organized by a grassroots group called Montreal Radical Dyke March Collective. Barb Zee Radikale (Barbara Legault), a spokesperson for the collective, explains, "Many factors converged to create this desire for a dyke march. One reason is very clear to everyone involved: dykes are everywhere, but we're invisible in society, and made invisible in the gay village and in pride in general. We wanted an event for dykes of all walks and wheels of life to come together in a public space." When asked about the event's relation to the current political climate, Radikale notes, "We've been talking about this march for many, many years now, so the student strike hasn't played a role in how we're organizing, but it's affecting how we see the event. We'll march in solidarity with the movement. We're also outraged and scared by the federal government, and the anti-abortion and anti-immigration bills that get pushed. Harper is pushing for a morally right-wing agenda of law and order that's hurting most Canadians, including lesbians. This march is in relation to what's happening with a powerful, capitalist prime minister who's passing bills and laws that are incredibly damaging."
Nonetheless, it will ultimately be a celebration. "The point is to take to the streets and see one another. It's so exciting that this is happening! It's going to be the first time for us to be together with hundreds of dykes, see one another, and meet one another. I think there's going to be a lot of emotion in breaking the invisibility." The march itself is exclusively for and by people who identify as dykes. To show love and support, allies are invited to welcome the marchers at 9 p.m. at the Cabaret du Mile-End, where a thunderous after-party will take place. The party boasts a stellar line-up: MEN (w/JD Samson of LeTigre), Benni E, Laura Boo, Miss Sugarpuss, Lynne T (Lezzies on Ecstasy), DJ Tizi, with MC duties going to Guizo La Nuit. It's actually staggering how much fun talent will all be together in one room.
Radical Dyke March
Tuesday, August 14 at 6 p.m.
Place Émilie-Gamelin (Berri metro)
After Party
Tuesday, August 14 at 9 p.m.
Cabaret du Mile-End | 5240 du Parc

Photo: Ashley Fortier
Queers Between The Covers
For all those who still appreciate the tactile allure of holding a book or zine in one's hands, Queers Between The Covers fosters cultural production while highlighting the community spaces that queer bookstores offer. It's perhaps surprising to note that since the 2002 closing of L'Androgyne, there has been no long-standing queer bookstore in Montreal—though the Concordia Community Solidarity Co-Op Bookstore does carry a great stash. Local and international bookshops, publishers, zine distros, zinesters, and authors will all converge under one roof to present their materials. Organized by a collective of volunteers based in Montreal, Queers Between The Covers is one of the most exciting literary events of the year. Already confirmed for this bookworm haven are Venus Envy, Fight Boredom Distro, Coco Riot, Jesse Crass and Morgan Sea, Bend Over Magazine, Elisha Lim, Fernwood Publishing, Jese Gordon and Jonathan Reid Sevigny, Kersplebedeb, and many more. Get between the covers—reading is hot!
Saturday, August 18, from 11 a.m. to 6 p.m.
Centre St-Pierre | 1212 Panet, room #1205
DROP CUNT!
Words cannot fully express what a wild night of sweat, glitter, and fierce catwalk moves this show/party is going to be. Effing Effeminate (Marseau Malik) and POMPe organizer Douche LaDouche (Laura Boo) host Baltimore vogue MC DDm, an up-and-coming hip hop artist whose kinetic rhymes and bold attitude on the microphone are described as "an action sequence from The Last Dragon meets Menace II Society." There's much excitement to be had over bringing such vogue infusion to Montreal. Effing Effeminate (Marseau Malik) explains that the roots of vogue ball culture is "in essence, derived from Harlem during the 1960s from gay men of color who wanted to express feminine identities through drag performance, fashion, and dance. Drag shows and a chosen family dynamic within the LGBTQ people of color community was the answer to discrimination and oppression." In terms of contemporary representations of the vibrant scene, there's been much fervor over Zebra Katz and Njena Reddd Foxxx's nod to ball culture in the stunning song/video Ima Read. But vogue culture recently received some more mainstream exposure, as Malik points out that "TV shows like So You Think You Can Dance? and America's Best Dance Crew have incorporated the vogue dance style, giving visibility to this aspect of ball culture in a positive light." Aside from DDm's set, there will be a performance by Benni E to revel in, followed by a raucous dance party where everyone's invited to work the floor.
Saturday, August 18 at 11 p.m.
Co-op Katacombs | 1635 St. Laurent