What is in a photograph?
No, no—bear with me on this one. Does an unaltered photograph capture the moment better, or hold more truth than say, a painting? What about other forms of representation? An event detailed through tapestry, an occasion carved out of stone, or a scene depicted in a sketch? How about a film of a picture of a sculpture of a photo of a moment captured in time? What if all media (and people) employed sought to faithfully reproduce reality? You as the viewer would still be asked to stand at a remove from the actual situation, and not look beyond the frame of the final image. In the end, are you still observing something real? Something important? Something "true"? Do you trust the perceptions and accept the omissions of those who stand between you and the moment?
These are some of the questions posed by the work of conceptual artist Thomas Demand in Animations, a new exhibit now on view at the DHC/ART. Demand meshes together a multitude of artistic platforms to explore the relevancy, reality and reportage of particular societal and sensational events. He painstakingly re-creates scenes, buildings and interiors depicted in the media (and elsewhere) from cardboard and paper using a 1:1 scale, photographs them and/or films them, and then destroys each sculpted work after it is satisfactorily documented. Why does he destroy the sculptures? To impart a sense of melancholy into the finished work, and perhaps, to reinforce the fleeting nature of impressions, observations, and so-called significant moments.
Recorder (2002) begins the meditation on authenticity, importance and ephemerality with a stop-motion animation of an old reel-to-reel, multi-track tape recorder. The work's looping soundtrack is oddly familiar, and yet, hard to place. When you learn of the piece's associative history—having to do with The Beach Boys, Brian Wilson, Wilson's breakdown, the lost tapes, the bootlegged copies of Smile surfacing from time to time—you start to cotton on to Demand's way of thinking.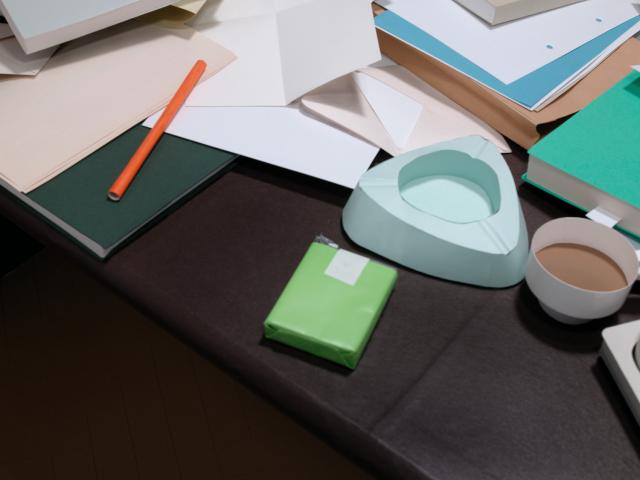 Embassy VII.a, 2007, C-Print/ Diasec, 51 x 53,5 cm © Thomas Demand, VG Bild-Kunst, Bonn / SODRAC, Ottawa
Things only get more layered, and more ominous, with the ceaseless reeling and re-reeling of Escalator (2000), shown on the next floor. An elevator ride up (Demand suggests you take the gallery's elevator to get the exhibit's full effect) will bring you into Embassy (2007), a photographic suite that occupies the final two floors of the gallery's first building (451 St. Jean). Though at first glance quite spare and sedate, Embassy will sweep you up in its convoluted (but supposedly true!) narrative of espionage, intrigue, thievery, falsified documents, poor nation-states and purported weapons of mass destruction.
If WMDs don't get you going, then hop on over to the DHC/ART's second building (465 St. Jean). There you will find Pacific Sun (2012), a stunning stop-motion, multi-frame re-creation of a YouTube video of (stay with me now) surveillance tape showing the interior of a cruise ship caught in a violent storm on the South Pacific.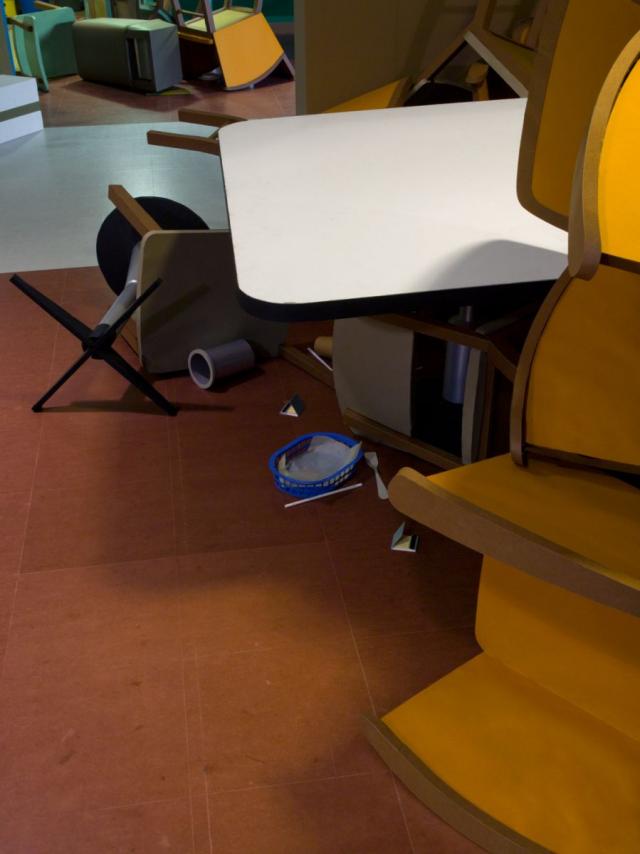 Pacific Sun, 2012, Video, 2,02 min, stereo (production still) © Thomas Demand, VG Bild-Kunst, Bonn / SODRAC, Ottawa
"It's more like a choreography of objects," explained Demand, "the mop and pail coming in from the right…two chairs entwined with each other like in a tango dance…it's like classic Disney animation—like the brooms carrying the water down from the staircase." And like the brooms in Fantasia, all the "moving" parts in Sun are backed by their own markedly loud (and cleverly thought out) sound effects.
"I was working on the sound quite a lot," said Demand. "I basically sent a friend in London a box of oranges by post, from LA. Once they got there ten days later, they were kind of mouldy. I asked my friend to put microphones in the holes of the box and move the oranges around inside, and that would be the ground structure of the sound."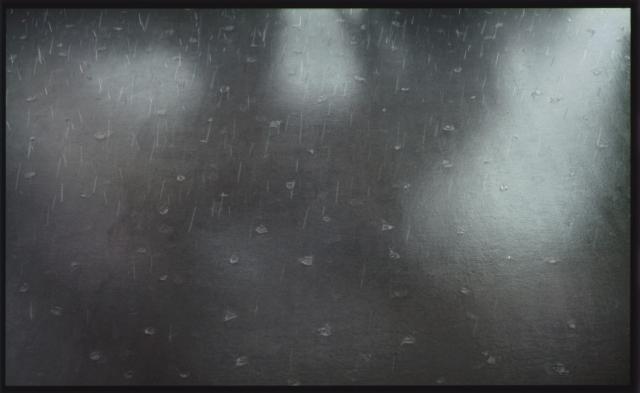 Rain / Regen, 2008, 35 mm Film Loop (production still) © Thomas Demand, VG Bild-Kunst, Bonn / SODRAC, Ottawa
Speaking of clever, the exhibit's concluding piece, Rain (2008) is a brilliant mindfuck of a film, combining the potential of candy wrappers, eight panels of glass and a very patient Estonian animation crew. Oh—and how did Thomas Demand achieve the pitch perfect sound of falling rain? "Frying eggs. With olive oil. If you ever want to do that, use the cheapest oil you can find, because it makes the least amount of popping sounds. The popping sounds tend to ruin the whole thing. Otherwise, you're not getting wet, but you know it's rain. Because you want to believe."
Thomas Demand: Animations
From January 19 to May 12
DHC/ART | 451 & 465 St. Jean Street | dhc-art.org