What self-respecting cinephile can pretend to be immune to the wiles of the almighty Toronto International Film Festival (TIFF)? In just over a month, film-schooled fans and industry folk from the world over will descend on the 416 for the festival's 38th edition. To whet our cinematic appetites and crank up the excitement before red carpets are rolled out and the city embraces its annual media circus, festival organizers unveiled a high-profile crop of 71 first titles this past Tuesday. Although more than double that amount of movies remain to be announced, this drool-worthy string of titles definitely gives those anxiously awaiting the end of blockbuster season lots to look forward to.
For starters, there's Scarlett Johansson playing an alien with a voracious sexual appetite (Under the Skin), Mad Men mastermind Matthew Weiner's directorial debut (the family comedy You Are Here), a Daniel Radcliffe-starring portrait of the Beat Generation (Kill Your Darlings) that's bound to improve on last year's lackluster On The Road, a Nelson Mandela biopic with eerie theatrical timing (Mandela: Long Walk to Freedom) and new works by top dogs such as Jim Jarmusch, Jason Reitman, Abdellatif Kechiche, Alfonso Cuarón, David Gordon Green and Godfrey Reggio. We've compiled a few extra reasons why you should plan a road trip down the 401 right after Labour Day.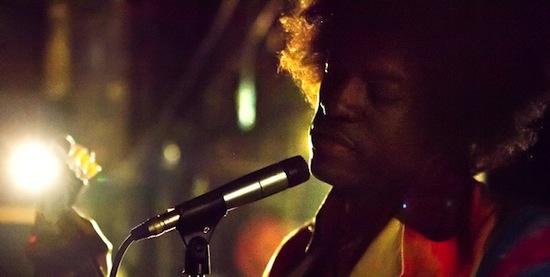 1. Andre 3000 (Outkast) and Yasiin Bey (aka Mos Def) hone their acting chops
All Is By My Side, the much-anticipated rock biopic about legendary guitarist Jimi Hendrix starrng André Benjamin, finally gets its world premiere at TIFF. Director John Ridley, who focuses on Hendrix's time in 1966-67 England, wasn't granted permission by the Hendrix estate to use any of the artist's songs, so the team opted instead for The Beatles and Muddy Waters classics, which Hendrix himself covered in the '60s.
After raising awareness about the force-feeding Guantanamo detainees are subjected to earlier this summer in a stomach-churning viral video, hip-hop recording artist and political activist Yasiin Bey (also known as Mos Def) plays a small-time Detroit crook who kidnaps a corrupt real-estate developer's wife (Jennifer Aniston) in TIFF's closing night film, Life of Crime, described as a prequel of sorts to Tarantino's Jackie Brown.
Oh, and for those who believe Adam Levine has more to offer the world than eye-gougingly lame reality TV banter and questionable cologne, the Maroon 5 frontman will play a no good musician (ha!) who dumps Keira Knightley in Can A Song Save Your Life, by Once director John Carney.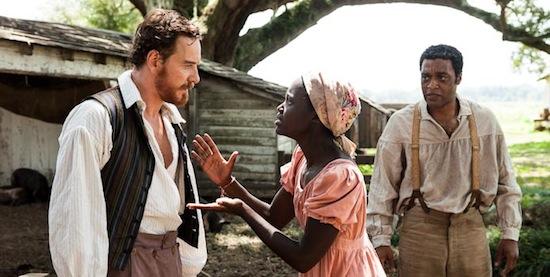 2. Two powerful true-life stories brought to the big screen by veteran filmmakers: 12 Years A Slave and Devil's Knot
It's on the heels of a spotless track record – 2008's Hunger and 2011's Shame – that British director Steve McQueen heads to Toronto for the world premiere of his latest, 12 Years a Slave. After tackling the 1981 Irish hunger strike and a high-rolling ad exec's all-consuming sex addiction, McQueen delves into 19th century slavery in the American South, via the harrowing true story of Solomon Northup, a free black man who was kidnapped in 1841 New York only to be sold into slavery in Louisiana (before being triumphantly freed twelve years later and going on to write about his experiences). With a stellar cast that includes Michael Fassbender, Benedict Cumberbatch, Paul Dano, Brad Pitt, Alfre Woodard and Chiwetel Ejiofor in the lead role, this one has "awards bait" scribbled all over it.
Atom Egoyan, reigning master of Canuck alienation, takes a stab (no pun intended…) at the now infamous real-life saga of the West Memphis Three in Devil's Knot. This chilling account of three Arkansas teens wrongfully convicted (and bullied into making false confessions) of killing three young children in 1993 whipped up a firestorm of controversy, along with a powerful celebrity and media-led backlash, thanks to the critically acclaimed Paradise Lost films, a Peter Jackson-produced documentary that screened at last year's TIFF, and now this first fictionalized rendition starring Reese Witherspoon, Colin Firth and Dane DeHaan. Fingers crossed Egoyan brings something new to the table.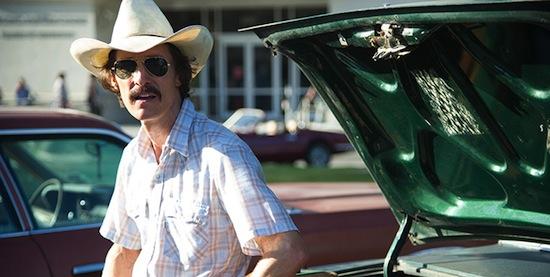 3. Quebec directors Jean-Marc Vallée and Denis Villeneuve do Hollywood
What's wrong with experiencing a slight surge of patriotic pride upon learning that two of our finest homegrown helmers went south of the border to direct a handful of Hollywood's A-list? Nothing, of course, especially given that both recently unveiled trailers are full of promise and dissipate any fears of potential straight-to-DVD trainwrecks.
Jean-Marc Vallée's Dallas Buyers Club recounts the true story of Texas electrician Ron Woodroof (played by an extremely gaunt-looking Matthew McConaughey), who waged an unlikely war with the medical establishment after being diagnosed with HIV in 1985, establishing a "buyers club" of non-toxic (but also non-approved) alternative treatments. Vallée's cast also includes Jennifer Garner and a cross-dressing Jared Leto – high heels, fishnet stockings and all the trimmings.
Denis Villeneuve's Prisoners looks like an even more twisted take on the Liam Neeson/Taken father-as-vigilante freak-out. When a daughter and her friend disappear, and authorities appear ill equipped to obtain crucial, life-or-death answers from the prime suspect (Paul Dano) before time runs out, a well-intentioned but potentially loose-screwed father (Hugh Jackman) takes matters into his own hands. Boasting the likes of Jake Gyllenhaal, Maria Bello, Terrence Howard, Viola Davis and Melissa Leo, it appears Hollywood has put its trust in the Maelström/Un 32 août sur terre/Incendies filmmaker.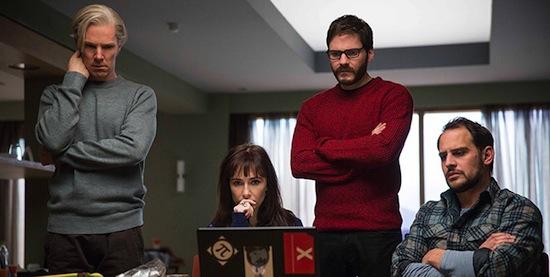 4. Whistleblowers granted prime festival real estate
It's an open secret that TIFF's opening night film is so forgettable that everyone avoids it altogether (Score: A Hockey Musical, From The Sky Down, Creation). But Rian Johnson's thought-provoking sci-fi thriller Looper broke that rule in 2012. This year, veteran filmmaker Bill Condon (Gods and Monsters, Kinsey, Dreamgirls) secured the coveted (cursed?) opening night slot for the world premiere of his anticipated WikiLeaks thriller, The Fifth Estate. Given the significant media attention devoted to high-profile whistleblowers of late – Edward Snowden and Canada's Sylvie Therrien among them – you can't get much more topical that the story of how Julian Assange developed Internet upstart WikiLeaks into the 21st century's most contentious media organization, exposing confidential intelligence documents and government secrets to the world at large. Starring British thesp Benedict Cumberbatch as the infamous Aussie computer hacker who's spent the past year hiding out in London's Ecuadoran Embassy. If this doesn't have gravitas, I'm not sure what does.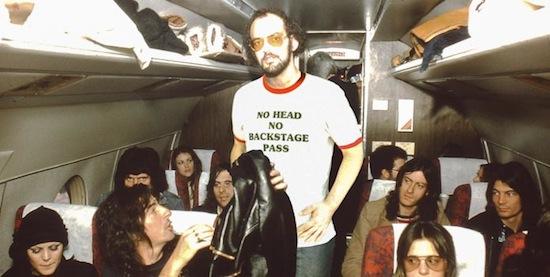 5. Actors get comfy in the director's chair (we're talking Mike Meyers, Jason Bateman, Joseph Gordon-Levitt and Keanu Reeves)
This first sampling of TIFF titles features a number of promising actors-turned-first-time-filmmakers. Among them, you'll find Joseph Gordon-Levitt, whose hilarious send-up of Jersey Shore-inspired courtship and promiscuity, Don Jon, we raved about at this year's South By Southwest. We're also looking forward to Canuck comedian Mike Myers' documentary homage to entertainment mogul Shep Gordon (Supermench: The Legend of Shep Gordon), a fast-moving Hollywood talent manager (for Alice Cooper, Luther Vandross, Blondie), first-rate hedonist and dear friend that Myers first met circa Wayne's World in the early nineties.
Jason Bateman, the face of absurdity on Arrested Development, takes a shot at directing with Bad Words, about a pathetic 40-year-old high-school dropout who finds his way into a national children's spelling bee contest. And Toronto-born Keanu Reeves, whose career has been marked by a combination of daft, surfer eye-candy parts and kung-fu-literate saviours of the human race, will direct a trilingual (that's Cantonese, Mandarin and English) kung-fu film set in a "a highly lucrative underworld fight club," entitled Man of Tai Chi. The buzz in China is predictably huge, but it remains to be seen whether Reeves can win back some of his Matrix fan base stateside.
Toronto International Film Festival
From September 5 to 15 | tiff.net