One of the challenges of living in a city where there's a glorious, never-ending daisy chain of festivals is that sometimes it's tough to pick which events will get penciled in to your calendar. Luckily, we're here to point you in the direction of Pervers/Cité, a collaboratively organized community festival that revels in the underside of pride. Now in its seventh year, this groundbreaking event is as eclectic, boisterous, and versatile as ever. From parties to quiz nights, marches to film screenings, Pervers/Cité offers an impressive 11 days of programming. Do yourself a serious favour and check out the complete festival listing. For now, here are some events that make us perversely excited.
VIVARIUM
Instigated by La Centrale Galerie Powerhouse for their 40th anniversary, VIVARIUM is a project curated by five young feminist art historians—Véronique Boilard, Philippe Dumaine, Audrey Laurin, Sabrina Maiorano, and Marie-Claude G. Olivier—that seeks to create discourse around feminist performance art. The project will consist of a blog and a series of texts that will pull from La Centrale's archives and this year's edition of Viva! Art Action. Lucky for us, VIVARIUM will launch during Pervers/Cité with a wild fauna-themed night at Notre-Dame-des-Quilles. The event will feature a set from Crémant Impérial and a dance party courtesy of DJ [when hairy met salope]. What'll really get the floorboards shaking is a performance by Donzelle and her dancers. Be prepared to sweat.
Friday, August 16 at 10 p.m.
Notre-Dame-des-Quilles | 32 Beaubien E.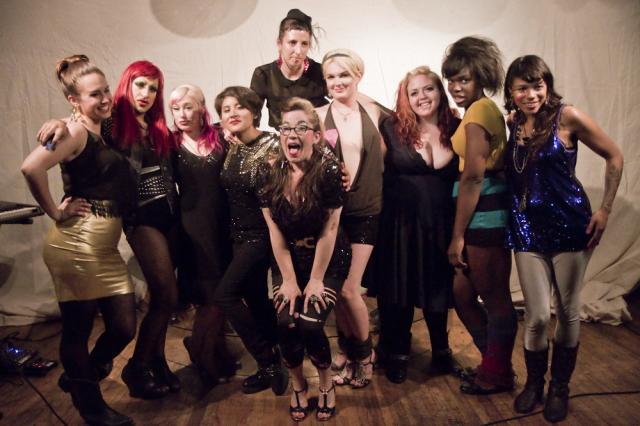 Photo: Laura Turley (L to R: Sabina Ibarolla, Horrorchata, Heather Ács, Shomi Noise, Lizxnn Disaster, Damien Luxe, Bryn Kelly, Bevin Branlandingham, Star Amerasu, Jade Payne)

Heels on Wheels Glitter Roadshow
For over four years, New York-based Heels on Wheels have been staging monthly interdisciplinary performance-based art gigs in NYC, as well as taking raucous road trips across the continent, eager to share their glitz, spirit, and femme power. The core troupe consists of co-producers Damien Luxe and Heather Ács, along with Shomi Noise and Lizxnn Disaster. Luxe and Ács explain that the Roadshow is a "queer performance art cabaret of radical extravagance and thought-provoking glamour. Our fearless performers rampage across the femme-inine spectrum serving up poetic theatre, hilarious performance art, and rock 'n' roll you can sink your heels into!" Obie-Award winner Lois Weaver once said that the show is "a glorious campaign to put femininity in the spotlight . . . It is a delicious combination of touring glitterati and local sparkle that showcases some serious queer talent. " Luxe and Ács will perform in Montreal with Holotropik and some surprise local guests. Dust off your best heels and break out your emergency glitter stash!
Sunday, August 18 at 7 p.m.
Co-op Touski | 2361 Ontario E.
Expiating Stigmatic Guilt
The motto of The Sisters of Perpetual Indulgence outlines their belief in "promulgating universal joy and expiating stigmatic guilt." This event, curated by Jamie Ross, will feature a collection of films and videos that germinate out of queer subcultures like the Sisters, the Radical Faeries, pagan rituals and radical drag performances. When asked about the curatorial process, Ross explains that it involved "tapping the roots of the Radical Faerie network, which spans North America, with offshoots in Japan, South America and France. [The Faerie] presence in Montreal is relatively recent." Directors from Montreal, NYC, and Boston will be present for a post-screening Q&A, along with Faerie community members from California and Ontario. The biggest jewel in the tiara is definitely JOY! (Portrait of a Nun) by local filmmaker Joe Balass. Though this screening takes place four days after the full moon, the stars will align for a night of celluloid, sex, and ceremony.
Wednesday, August 14 at 7 p.m.
The Plant | 185 Van Horne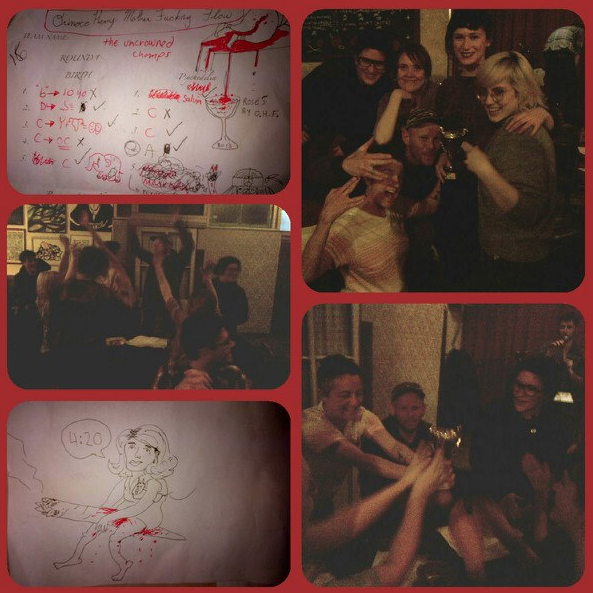 Photo: Jess Lee

Do You Know Enough? An evening of lesbian-feminist trivia
In 1987, a lesbian collective in Missouri created an independently produced Trivial Pursuit expansion pack that contains over 3000 questions covering topics such as women's sports, menstruation, sex worker rights, women's lit, and even a bit of witchcraft. Luckily, a copy of this lesbian-feminist treasure is now in Montreal, and it'll appear in a special Do You Know Enough (D.Y.K.E)? edition of the Know It All trivia night at Cagibi. Quiz Master Reuben will co-host the event with Dayna McLeod, along with some Know It All alumni, including the one and only Jackie Pentium. When asked what prizes might be in store, event organizers Bernie Bankrupt and Jess Lee cite "ultimate glory and D.Y.K.E. bragging rights." Prepare for intellectual stimulation and hunker down for a true twist on the classic game. Special rules include "lesbian-feminists get 3 hints, dyke separatists get 2 hints, and closeted lesbians get no hints at all." And don't forget, "cats and other familiars are allowed to help only with answers in the EARTH SCIENCES category."
Tuesday, August 13 at 9 p.m.
Le Cagibi | 5490 St. Laurent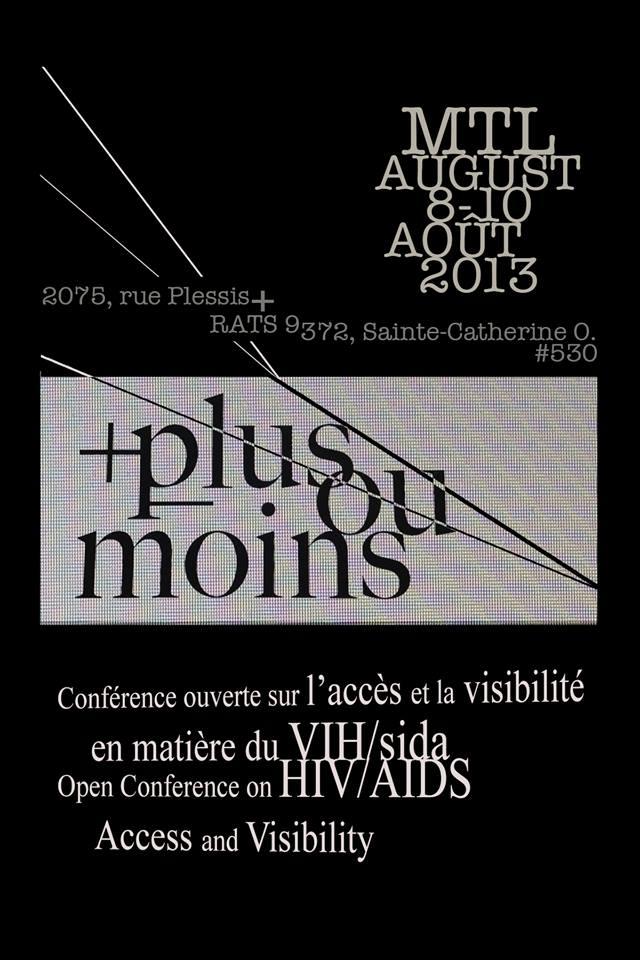 Plus ou Moins
Plus ou Moins is a two-day conference that focuses on the fact that HIV/AIDS "is no longer a matter of positive or negative, sick or well." Co-organized by Ian Bradley-Perrin, Johnny Nawracaj and Jessica Whitbread, Plus ou Moins offers a wealth of panel discussions on a variety of topics such as media misrepresentation, trans people and access to health services, women in the HIV movement, memoirs, and porn. Speakers include Janice Dayle, Jordan Arseneault, Vincent Chevalier, Betty Iglesias, Mikiki, Kia Benbow, Francisco Ibáñez-Carrasco, and The Native Youth Sexual Health Network. When we asked Bradley-Perrin what's challenging about reaching people who feel disconnected from the issues of HIV/AIDS, he cites "mystery and intrigue" propagated by "sensationalized media portrayals and dramatizations." The challenge arises when the subject becomes demystified. He continues, "I think where this becomes tricky is that it puts people in an uncomfortable place of their own implication in systemic disparities in terms of health, wealth and access to these resources. The remedy to this is, of course, solidarity across movements, recognition of these inequities, action and dialogue sharing across and within movements which we are trying to foster with Plus ou Moins and Pervers/Cité."
Friday, August 9 and Saturday, August 10 from 10 a.m. to 5 p.m
CCGLM | 2075 Plessis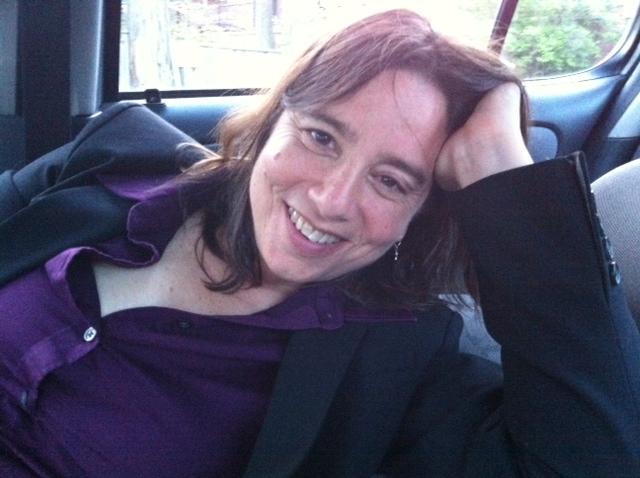 Photo: b.h. Yael
An Army of Lovers Shall Not Fail + Sarah Schulman Reading Israel/Palestine and the Queer International
Author, playwright, activist, professor, and just all-around incredible writer Sarah Schulman will be in town for not one, but two Pervers/Cité events. First will be a panel discussion called An Army of Lovers Shall Not Fail: Strategizing a leftist queer movement. She'll be joined by Option Citoyenne cofounder Manon Massé—who's also the Sainte-Marie-Saint-Jacques candidate for Québec Solidaire—along with Tim McCaskell, the Toronto-based community organizer, educator, and founding member of AIDS ACTIONS NOW! When asked about the name of the panel, event organizer Josh Pavan notes that, "one of the things that Pervers/Cité really strives for is to be a space for politicized discussion, so putting together an opening panel was a way to set a political tone for the week. In terms of the content of the panel, I think the left in general doesn't really talk enough about organizing strategy and goals—and maybe the queer left especially. Once we knew we wanted to put together a panel on this topic, these names sort of followed naturally." The following day, Sarah Schulman will talk about her new book, Israel/Palestine and the Queer International. On the subject of her latest work, the author explains: "[It's] about how I made the decision to face and deal with how I had been raised to view the state of Israel and why I had not been responsible enough to educate myself about the Occupation. It's a book about being willing to change, to realize and to be self-critical in order to take a step towards justice." Schulman's writing is always as critically engaged as it is engaging, so these two events really are not to be missed.
An Army of Lovers Shall Not Fail
Friday, August 9 at 6 p.m.
Concordia University, EV Building, Room 1.615 | 1515 Ste. Catherine O.
Sarah Schulman Reading Israel/Palestine and the Queer International
Saturday, August 10 at 4 p.m.
Le Cagibi | 5490 St. Laurent