Montreal: maybe the city of sinners, but rarely, these days, is it called the city of saints. But that's the title artists Jono Doiron and Peter Farmer have chosen for their group exhibit at Galerie 203. For City of Saints, sixteen local artists—Doiron, Farmer, MC Baldassari, Bryan Beyung, Jason Botkin, Dorke, Francois Escalmel, James Farrell, Peter Ferguson, Bryan Lanier, Edith Lebeau, Marie-Eve Proteau, David Samson, Maridza Kim Sarah, Mimmo Scali, Sophie Wilkins—each depicted a street named after a saint.

Doiron is from Halifax, and Peter is Scottish. Neither is religious, and the project was started in March, long before the Charte des valeurs debate blew up. But they do want to pay homage to the history of religious iconography in both the visual arts and their adopted city. "Theorizing this show has definitely fueled an interest in religious imagery for me that was rather dormant since my art history course in college," explained Doiron. "I discovered many incredible works of art I've wrongly unexplored for a long time simply because it was under the context of religion. It's taught me to be less judgmental."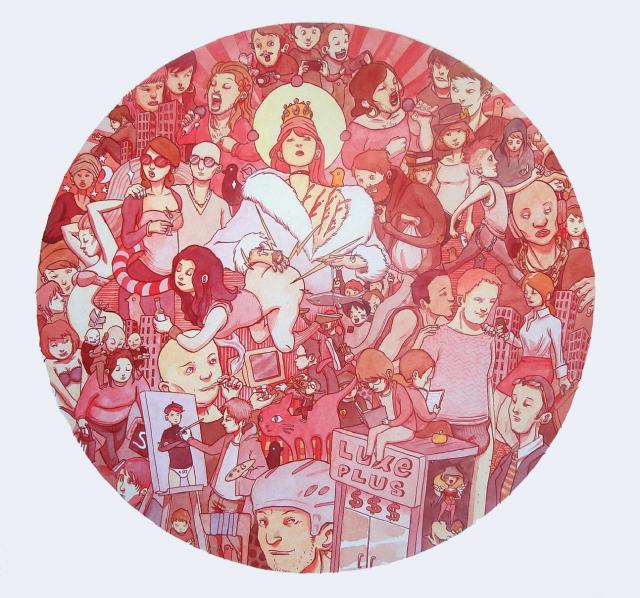 Sainte Catherine, by David Samson (Watercolor on paper)
"Religion to me is a way of living," said Farmer. "That's why this show is so exciting. Each artist expressing what the city means to them and how they live in it." NIGHTLIFE.CA asked Doiron five questions about the show.

NIGHTLIFE.CA: How did you come up with the idea?
Doiron: I moved to Montreal in July 2012 and among other unique traits noticed a large amount of streets are named after saints. Whenever you have something dedicated to an individual long after they've passed I often wonder if they would have even approved the tribute. I also wondered if the streets had any relation to what the saints stood for? There are over 60 streets named after saints in Montreal. Doing some research, we discovered some of the saint streets are really named after founders and noblemen with the same names. Since the theme of the show is specific to Montreal, Peter and I decided to include just local artists. Not all the artists in the show are from Montreal, but they all live in Montreal. These were artists whose work I already admired and knew I wanted to work with.

Were there rules?
I didn't want photography or digital art because all the great saint paintings of the past are hand painted, so it's a tribute to the way things used to be done. I gave all the artists the opportunity to choose which saint and street they wanted to paint, but only one artist per saint. Admittedly, some of the saints and streets have more to work with than others. I also encouraged the artists to not only do some research on their chosen saint, but to also visit the street named after them, discover what makes it unique and include those ideas in the work.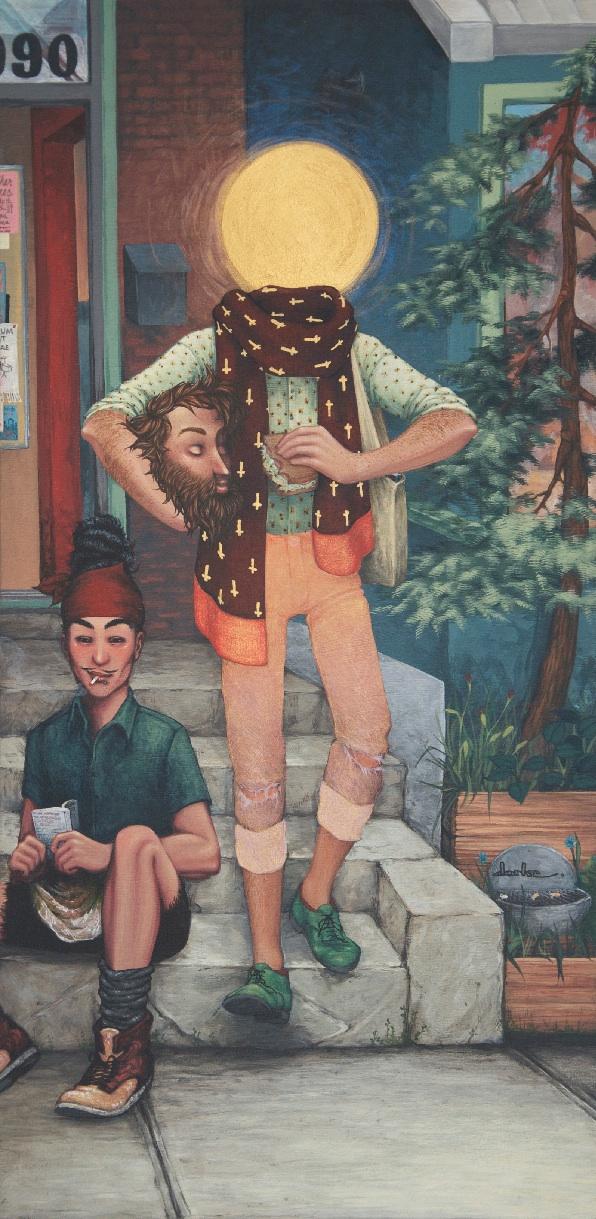 Saint Urbain, by Dorke (Acrylic on wood panel)
Why did you choose your saint?
I just thought Rue Saint-Viateur has so much visual interest and picked it based on the street, knowing nothing about the actual saint. I wasn't able to find out a lot of information other than he died quite young, he was a transcriber and accompanied Saint Just into the Egyptian desert. There are plenty of things named after Saint Viateur though. Most notably Saint Viateur Bagel, a proud local staple that would have been impossible not to incorporate. Saint Viateur is based somewhat on Myer Lewkowicz (the founder of Saint Viateur Bagel) and the frame is made to resemble a bagel, complete with real sesame seeds. The figure is gliding in front of Cafe Olimpico. The green figure on a BIXI is The Green Panther, my favourite vegetarian restaurant of the same name.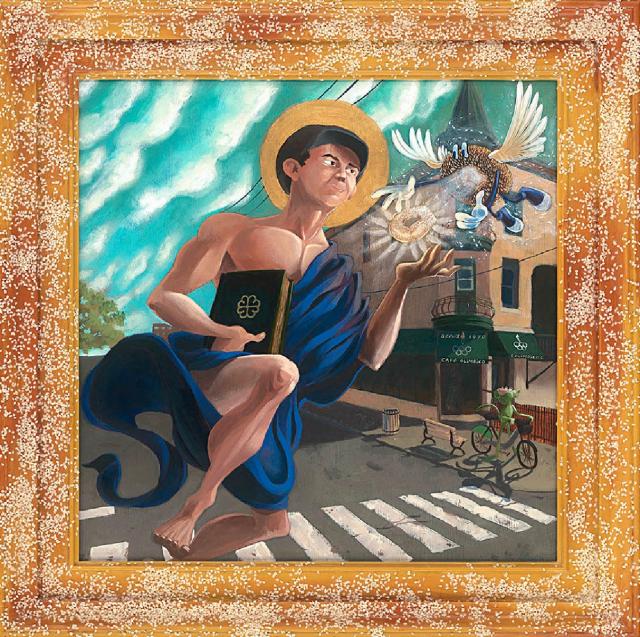 Saint Viateur, by Jono Doiron (acrylic on masonite, sesame and aerosol on frame)
Do these saints really have something in common with their streets?
Most notably Saint Laurent. He was martyred by being roasted alive on a gridiron and afterwards became known as the patron saint of chefs and cooks. There are a lot of restaurants on Boulevard Saint Laurent; that's one of the things it's most known for.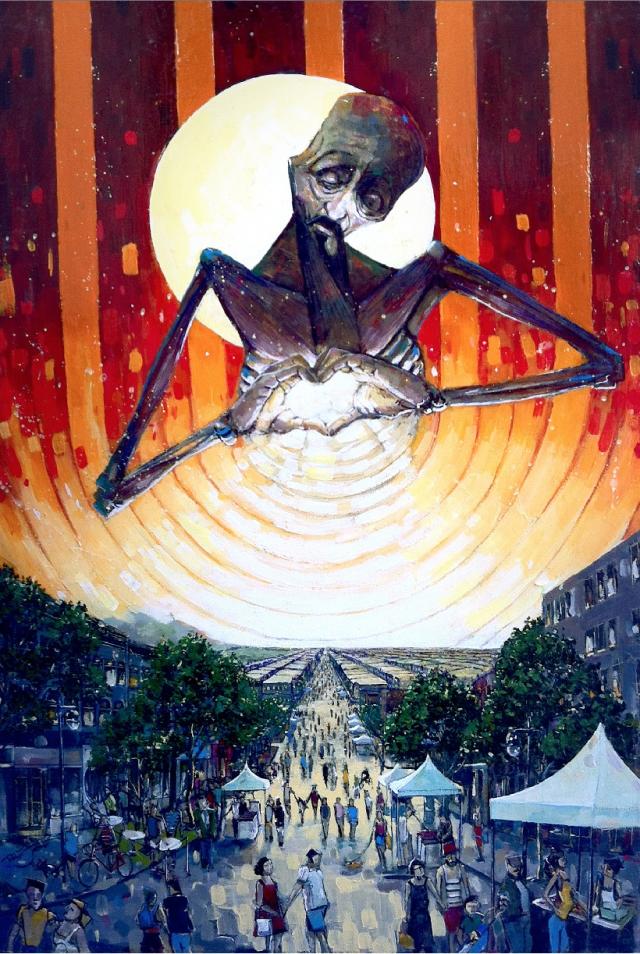 Saint-Laurent, by Peter Farmer (Acrylic and ink on canvas)
What's really special about this show?
You don't have to be from Montreal or even be religious to enjoy the work in this show. Having spoken to some people who have lived in Montreal nearly their whole life and mentioning the uniqueness of the saint streets, it was surprising how many didn't give it too much thought, because that's just the way it's always been. We're challenging people to look at their streets in a different way.

City of Saints is on view at Galerie 203 (203 Notre-Dame West) and online at cityofsaints.ca.