Upon asking the creators of the Montreal-shot CBC TV series 18 to Life if they were married, Karen Troubetzkoy laughed as she answered: "We don't believe in marriage."
With a huge grin on his face, Derek Schreyer added, "We're naughty; we live in sin." Interesting comments considering that the whole premise of the show centers around two young adults who tie the knot prematurely.
This isn't the first time this TV power couple has worked together. Vancouver-born Troubetzkoy and Torontonian Schreyer first met back in the nineties at a Vancouver film school. He directed her short. Between 2004 and 2006, they worked together on a different show that was also shot in Montreal, 15/Love, a teen comedy series about tennis and love. Interestingly, many ideas for 18 to Life's characters were inspired by the real-life drama that would occur on the 15/Love set between the young actors.
Dare to care...about marriage
18 to Life's main characters Tom Bellow (Michael Seater, Life with Derek) and Jesse Hill (Stacey Farber, Degrassi: The Next Generation) aren't content to keep their relationship safely contained near the swing sets and the sandbox for very long. These two childhood best friends get married based on a game of truth or dare. She dares him, and he, in return, is game. The story explores the dynamics and conflicts that arise between the young couple, their families and friends, "celebrating relationships in all their messy glory," as Troubetzkoy and Schreyer put it.
When asked if a young Montreal audience could identify with the uncommon tale of two 18-year-olds getting married, Troubetzkoy answers, "I think they'll enjoy seeing what a mistake it is." She explains that it isn't a show about getting married young, but a show about getting married too young.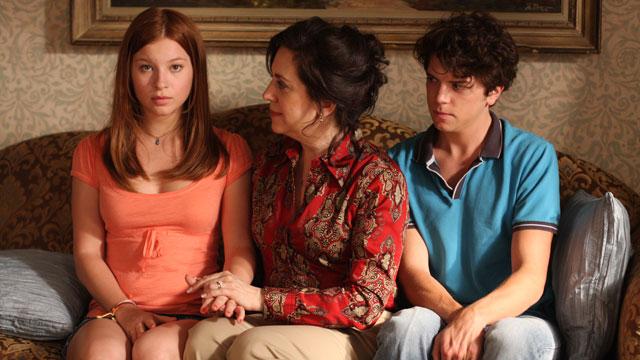 Stacey Farber, Ellen David and Michael Seater on the set of "18 to Life" // Photo credit: Bertrand Calmeau

Wedding bells in our fair city
The show was originally supposed to be shot in Toronto. but was finally deemed cheaper and more viable to produce in Montreal. While 18 to Life is set in a non-descript Canadian neighborhood, the Montreal influence is present. Shooting locations include Parc Lafontaine, Place Jean-Paul Riopelle, Place Émilie-Gamelin, Carré St. Louis and Mile End staple Le Cagibi.
Derek and Karen actually named the Bellow family after the Canadian-born writer Saul Bellow, winner of the 1976 Nobel Prize for literature. They had no idea that Bellow was originally from Lachine until they ended up shooting in the Saul Bellow library of that same neighbourhood. "It was very exciting," said an enthusiastic Troubetzkoy.
18 to Life is currently shooting its second season. This past summer, the show was picked up by the American CW network, and both Schreyer and Troubetzkoy were thrilled to be able to export the big-budget sitcom to have it regarded not as a Canadian show but simply a show! "We love that we're getting Canadian programming in the US for a change," said the creators. "It's wonderful to be able to get our message heard over there even though we're not hitting them over the head with canoes and moose…it's still the Canadian perspective."
18 to Life | 2nd season airs in January 2011 on CBC | cbc.ca/18tolife