Love dough rings? Mile End, home of the big bagel shops, now boasts a donut café. Chez Boris will celebrate its grand opening this Saturday by giving away free donuts. Yes, you read that correctly. Free. Donuts.
"Donuts are the new cupcakes," says owner Boris Volfson. Just like the trendy cupcake shops, Chez Boris offers inventive flavours. But, at 75 cents a pop for sweet donuts and $3 for beignewichs, or savoury donuts, these are affordable treats. "It's not crazy expensive so you get to try every single type," Volfson continues. "The model is really proletariat."
That's a fitting description, seeing as Chez Boris is a Russian donut shop. Russian donuts are smaller and a little less sweet. They're yeast-based and double raised, unlike cake donuts. The traditional ones are coated with confectionary sugar. Everything is made in house; nothing has ever been frozen. "For me, two of the traditional ones with a cup of tea—it's soul food to me," says Volfson.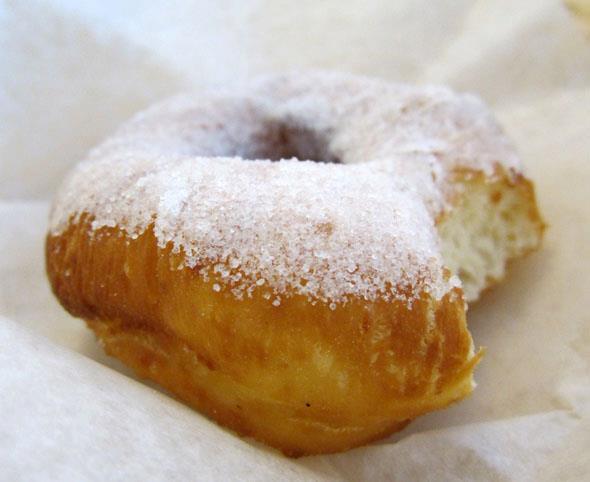 It all started two years ago, when he returned to Russia for the first time in decades. "My parents took me to this donut shop that's been open for sixty years in St. Petersburg, where I'm from. I had the donuts and said, 'I wish there was something like this in Montreal." So he quit his IT job and opened Chez Boris.
Other Russian specialties include kwass, a rye-based soft drink that's unsweetened and a little bit like soda or tonic water, as well as 'soviet coffee,' or drip coffee mixed with sweetened condensed milk. "We mix it in a huge tub. Here, it's kitsch, but in Russia it's just the way people used to drink coffee. The coffee is terrible. Putting in sweetened condensed milk helps. Milk was rare."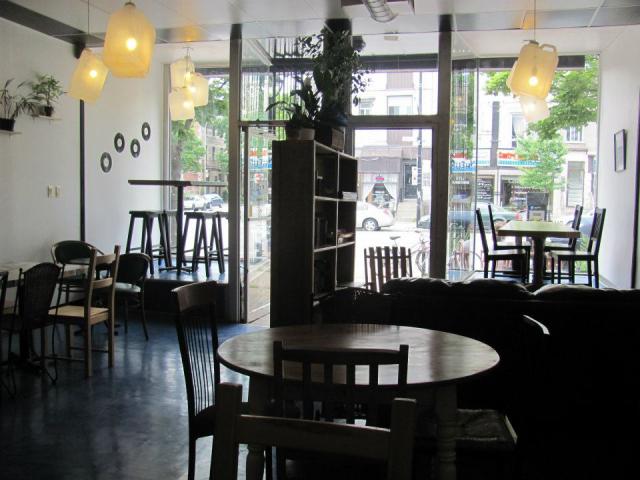 The menu changes frequently, and includes salads and soups (borscht is one). Volfson also plans to invite guest chefs who will serve their own set menus on weekends. Volfson's favourite? The savoury donuts. "Nobody else does this in the world," he claims. Right now, there's one with pork belly and hoisin sauce, a nod to Momofuku's pork buns, and one with beets, goat cheese, and walnuts. There's also a donut topped with smoked salmon that Volfson cures himself, a technique that he learned from his grandparents. They partly inspired the café.
"It's a little bit of a sad story. My grandparents were bread engineers. They were essentially responsible for the mass production of bread in Russia. They worked all their lives. Then my grandpa got into a little trouble. He wasn't allowed to leave the country for 10 years. They finally left in 2000 for Israel, with almost nothing. My grandpa works washing floors and my grandma looks after kids. They're in their seventies, where they should be enjoying their retirement. They were supposed to come here—part of this idea was actually to spend some time with my grandparents."
Chez Boris
5151 Du Parc
Grand opening: Saturday, July 28 from 9 a.m. to 9 p.m.