Well, hello stranger. Haven't seen you around these parts in a while. I must say, you're looking quite dashing in your reds, your ochres, and that heavenly shade of orange you wear so well. Oh—but what's that you say? You're so much more than just a pretty season? You have depth and soul and a vivid, tempestuous dreamscape riding roughshod over the very tender insides of you? Do tell, Autumn—do tell.
Come along and take a gander at some of the must-see exhibits on the Montreal gallery scene this colourful season.
1. The Science of Dreams
(Arsenal Montreal, until December 19)


David Altmejd, La gorge, 2012 (Credit Arsenal)
An exhibit inspired by Michel Gondry's 2006 feature flick, The Science of Sleep (a movie that both delighted and annoyed me to no end, let me tell you), this collection brings together photographs, sculptures and paintings which flow from the artists' dream-like visions and dream creations. Look for works by the famously symbolic Anselm Kiefer (Jung would have a field day), that mischief maker Franz West, and be sure to check out the somewhat uncomfortable-sounding but ultimately dreamy canopy bed made entirely out of blown glass and sculpted pewter by French artist Jean-Michel Othoniel.
2. PARADE by David Elliott
(Joyce Yahouda Gallery, until November 16)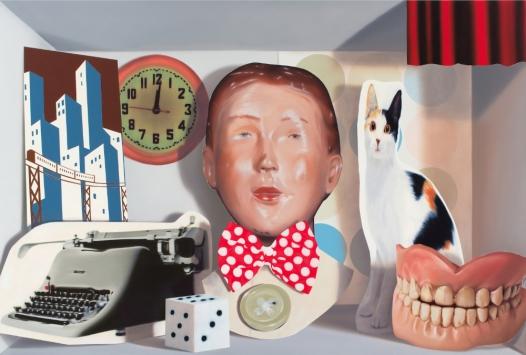 David Elliott, Poil de carotte, 2013
David Elliott was one of the primary artists responsible for the return to figuration in the 1970's and 80's in Canada. He uses collage as a textural jumping off point for many of his riotously colourful paintings. Go see Buddhas convening with bankers (is that kosher?) who get the final word on their investments from fortunetellers and a veritable chorus of marauding skulls. How do skulls maraud? You'll just have to trip off to the Joyce Yahouda Gallery to find out.
3. Beat Nation: Art, Hip Hop and Aboriginal Culture
(Musée d'art contemporain de Montréal, from October 17 to January 5)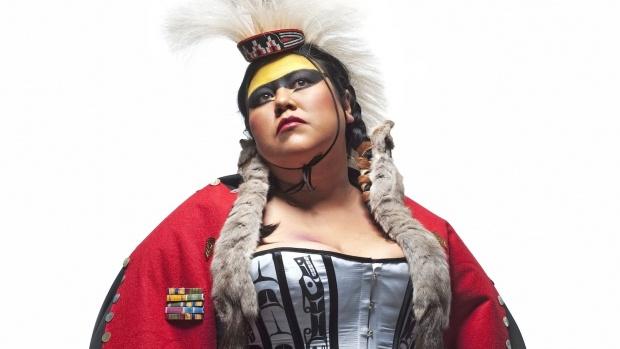 This looks so cool. Featuring painting, sculpture, installation, performance pieces and video, Beat Nation reflects a generation of artists who contrast and compare urban youth hip-hop culture with Aboriginal identity in completely inventive and surprising new ways. The show promises to be a total, turn-things-on-their-head mash-up of age-old tradition and modern mainstream.
4. GROS PLAN (l'art de l'affiche / poster art) by Michel Bouvet
(Centre de design de l'UQAM, until November 3)


Something else that's too groovy to miss? The select retrospective of French poster art virtuoso Michel Bouvet. Spanning a 30-year career, this exhibit includes several of Bouvet's drawings and sketches to better help the viewer understand the incredible richesse behind his creative approach. Working in both black and white and color, with photographs (in collaboration with photographer Francis Laharrague) or drawings, Michel Bouvet reminds us that the poster is a striking way to make the harried passerby stop and stare.
5. L'Oeuvre de Louis-Pierre Bougie
(1700 La Poste)


Watch out, Phoebe Greenberg! There's a new super art patron in town. She's got Belgian swagger and largesse built on lager. Meet Isabelle de Mévius, a descendant of Walloon nobility and a member of one of the three wealthiest families in Belgium—all shareholders in the Stella Artois brewery. Having abandoned a fledgling career as a painter, her driving interest in Lacanian psychoanalysis lead her to Montreal, where she found several avid, active followers of Lacan's teachings.
Lacan aside (though how can one ever really put Lacan aside?), de Mévius wanted a space to display her growing collection of Quebecois art. Enter 1700 La Poste, a lovingly and painstakingly re-stored 1913 post office building, transformed and reformed into a contemporary art space. Get yourself down to Griffintown and wander through La Poste's first free-to-the-public exhibition, which focuses on Quebec writer, painter and illustrator Louis-Pierre Bougie.