Everyone's been to school, even if only for a few years. We've all enjoyed our moments of glory (scholastic achievements and extracurricular merits for some, surreptitious French kissing at recess for others) and moments we'd sooner forget (a history of detention for some, gym class woes for others.) But it's safe to say that few have had to deal with finding their grade school teacher's lifeless body hanging from their classroom ceiling.
That's precisely what Simon (Émilien Néron) and Alice (Sophie Nélisse) are left to wrestle with in Montreal filmmaker Philippe Falardeau's absolutely sublime Monsieur Lazhar, which charts the kids' progress as they must grieve the death of their teacher, and adapt to the new schooling methods of Bachir Lazhar (Fellag), an Algerian immigrant who takes over the mourning classroom.
Let's not kid ourselves: the film has already become a bona fide festival darling. Prizes at Locarno, Namur, Toronto, Valladolid, an opening slot at the recent Abu Dhabi Film Festival, Canada's official entry to the Oscar race, plus it's been acquired by distributors in practically every major territory. It's one of those rare films to enjoy that ever-elusive 'critical consensus' (quite a feat, as we know critics are a fairly unforgiving bunch.) So anyone wanting to come out against it will have to put up quite an impeccable fight. That will most definitely not be NIGHTLIFE.CA, however, as Monsieur Lazhar ranks at the very top of our 2011 Canadian films: a universal ode to the power of teaching and human compassion, told in an unfettered way by first-rate actors.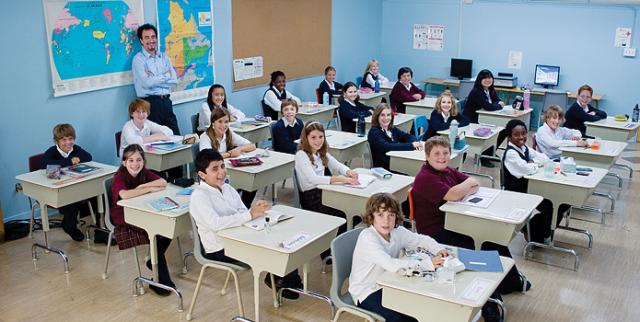 Avoiding the didactic at any cost
In fact, with his fourth feature, Philippe Falardeau (La moitié gauche du frigo, Congorama) has crafted that rare kind of film that brings together young and old, Plateau and Dollard-des-Ormeaux, readers of 7 Jours, NIGHTLIFE.CA and National Geographic. It tugs at your heartstrings, but not in a cheap, cue-the-violins kind of way. It does so with panache, subtlety and richly layered storytelling. The most remarkable feat about Lazhar is that it tackles so many potentially weighty themes – grief; guilt; the callous, bureaucratic nightmare of Canadian immigration; the lackluster level of French taught in Quebec's public schools; the codified relationships between teachers and their students, and the list goes on – and yet the film never feels heavy-handed, nor is it reduced to a superficial treatment of said issues.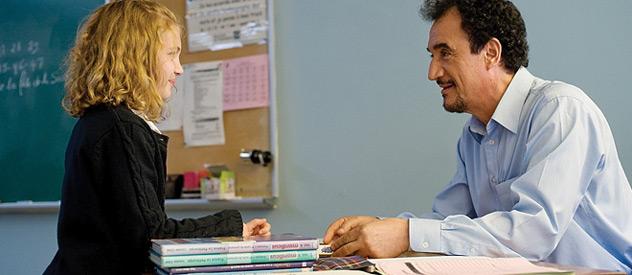 Sophie Nélisse and Fellag, Monsieur Lazhar
When NIGHTLIFE.CA met with the filmmaker in Toronto back in September, he told us he'd been longing to tell a story around immigration for some time, having won Radio-Canada's popular globe-trotting TV contest La Course Destination Monde back in 1993. But he kept coming up with ideas he deemed too didactic or obvious. Then he saw local playwright Évelyne de la Chenelière's one-character play, and felt compelled to adapt her story of an immigrant teacher who hides his traumatic past and thorny legal battle for political asylum, in order to protect the children and help them deal with their own grief. As for transposing the xenophobia addressed in the play to his multi-character narrative, Falardeau tells me he very willingly toned that down. "In the play, it went much further, but I didn't want to go there," he says. "In any case, there's already more than enough fear of the 'Other' and intolerance, with reasonable accomodations and all... We understand that Bachir represents the 'Other', and that, for Bachir, we are the 'Other'. Those things work both ways. But instead of focusing on cultural clashes, I meant for this film to be an ode to teachers. A critique of the school system, sure, but not of teachers."
Falardeau sought out Fellag, a popular French stand-up comedian of Algerian descent, to play the titular role, a teacher who most amusingly subjects his new pupils to Balzac dictations. And in a classic bit of life-mirrors-art-mirrors-life (and great casting), Fellag himself spent 3 years living in Montreal some thirty years ago, a detail that didn't go unnoticed to Falardeau.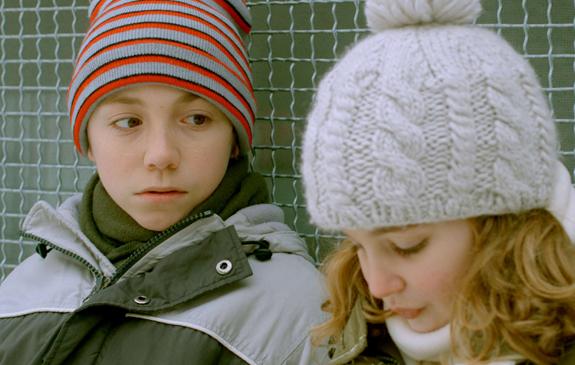 Émilien Néron and Sophie Nélisse, Monsieur Lazhar
Being inspired or doubting oneself? A very fine line.
I mention Laurent Cantet's Palme d'Or-winning The Class (2008) to Falardeau, another classroom drama (albeit grittier, with more of a documentary feel, and set in Paris' multi-ethnic banlieues) which, not unlike Lazhar, builds on a teacher-student dynamic in a culturally diverse milieu. In a telling moment of humility, Falardeau confesses how devastated he was after seeing it. "When I saw The Class, I was pretty bummed out," says the genial director. "I was writing Monsieur Lazhar at the time, and I thought The Class was so good that I almost gave up on writing it. I told myself that the great film set in a classroom had been done. But talking it over with my producer [Ed's Note: the same team behind last year's Oscar-nominated Incendies], he made me realize that we weren't going in the same direction at all. I guess I'm just like that," he answers with a chuckle, in response to my clearly taken aback mug. "When I see a good film, I can either be totally inspired and think to myself 'I want to make films!', or conversely, I can also think 'I'll just never be that good, might as well change careers right away.'" Needless to say, we're all very relieved he chose to be inspired by The Class.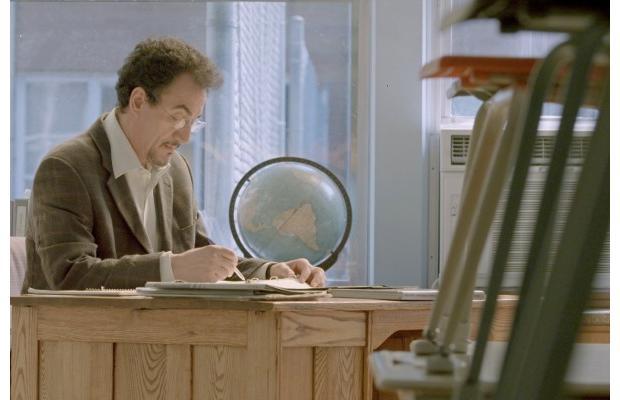 Fellag in Monsieur Lazhar

If you're expecting the visual razzle-dazzle (or conversely, the stark minimalism) that characterizes so many hip films being churned out by first-time filmmakers, think again. Monsieur Lazhar is a film of tremendous maturity, as it relies on nothing other than simple, shrewd storytelling that's grounded in reality to draw us in. So if you're a fine arts elitist looking for a valid reason not to see the film everyone is hailing as the best thing since sliced bread, trust us, you just won't find one. Just give in and get your art-snob behind to that theatre already.
Monsieur Lazhar ****
Now in theatres