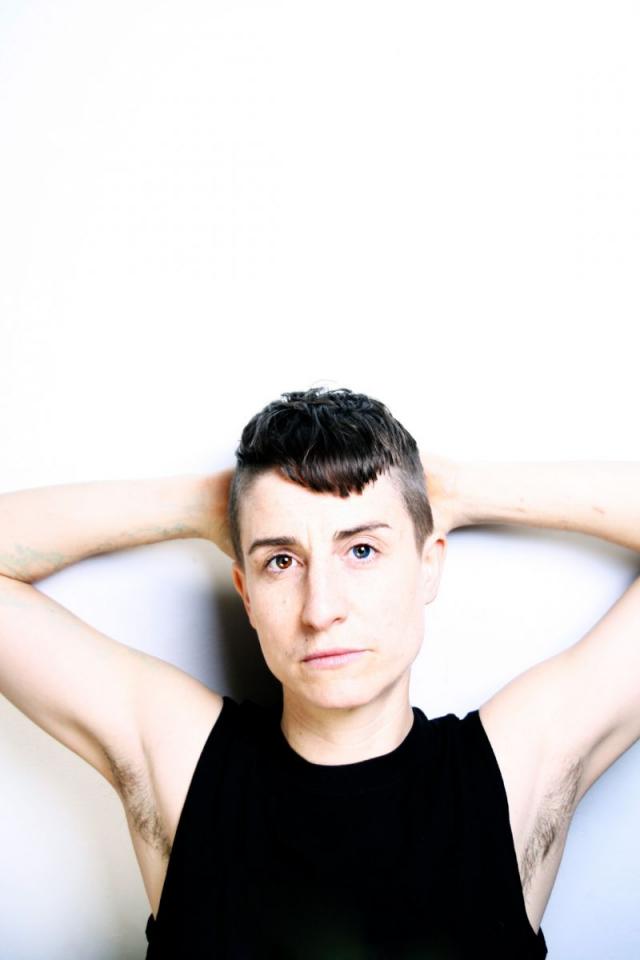 "Active feminist performance artists are fierce survivors of the patriarchal machine," multi-disciplinary queer artist Coral Short (pictured, left) tells me in advance of the premiere of her piece Stop Beating Yourself Up at the Chat Bleu on Friday night. The Million-Dollar-Baby-esque boxing ring on Beaubien will be the main venue for the "undisciplined, unapologetic" Edgy Women festival from March 7 to 10, with major players from Montréal and Europe's feminist live arts scene taking to the ring with skull-cracking performances programmed by art maven Miriam Ginestier.
In addition to Short's work, which will play on the literal meaning of "beating yourself up," there will be dozens of bad-ass ladies exploring the intersection of sports and performance art expressed by and through women's bodies. By which they mean there's a hockey game in the programme curated by writer/coach Meg Hewings, and live wrestling dramatics by Belgian lucha libre lover Marijs Boulogne and world-famous wrestler LuFisto. LA-based body modifier, ex-Montréaler, and ex-boxer Heather Cassils – whose sculpted physique graces the poster for the festival – will be thrown into the mix, along with onetime drag king and Berlin-based tactician Antonija Livingstone, who will perform alongside local it-girl Angy T Horné and Montréal artworld fixtures Catherine Lalonde Massecar and Virginie Jourdain for the GAME ON programme Friday and Saturday nights. In Jourdain and collaborator Florence LaRose's Tour de piste, they'll bring in male body builders for spectators to "pony-ride" around the club!
"Edgy Women is a really unusual festival," says Miriam Ginestier, known for her devotion to all things arty, queer and women-focused such as her bygone Meow Mix cabarets. "It's underground, but at the same time it's all ages and everyone is welcome. It highlights experimental performance, but also tries to bring together the general public, academics, and artists in an environment that's very fun and challenging." Walking the very fine line between fun and serious is often fertile ground for radical performance, and perhaps never more so than with this year's theme of Art/ Sport/ Gender.
"Lucha libre is the only live art that [embodies] courage – it's a combination of sport and stand-up comedy," Edgy favourite Marijs Boulogne says. Her EDGY LUCHA event (Sunday) will have burlesque beauty Mia van Leeuwen (Hard Candy, pictured, right) as its much-anticipated half-time show. To truly understand this festival, don't miss the late-night hockey game on March 7, where artist/coach Meg Hewings will be calling out newly invented "rules" at the Aréna Mont-Royal to "poke fun at a sport that goddamn people take too seriously," Ginestier explains. "It's to remind you that people make these rules up, that these rules become traditional, and then sacred, and then we don't question them anymore," she asserts. Ding ding ding: it's game on at Edgy Women!
Edgy Women Festival
March 7 to 10
Club de boxe Chat bleu (435 Beaubien Ouest) and various locations | edgywomen.ca
Photo credits: Tif Flowers (Coral Short) and Ryszard Hunka (Mia Van Leeuwen).