The first thing Zach Braff does once our call is connected is to thank me "for being interested in our little movie." Given that the little movie in question is Canadian indie drama The High Cost of Living, a low-budget picture shot in Montreal over a year ago, one might have expected an actor of his standing not to sound as personally invested in the project. But Braff, for one, is notoriously picky when it comes to roles. The same applies to his work behind the camera, having already turned down a directing gig on an epic 100 million dollar kids flick out of lack of interest. Hence, hearing the New Jersey-raised actor gush about director Deborah Chow's script and the Montreal setting – he'd already shot the quarterlife crisis relationship drama The Last Kiss here, although the city had to dress up (or down) as Wisconsin that time around – it's clear Braff isn't riding the Hollywood big budget express train. "It's a small movie, for a specific audience," he concedes without hesitation in reference to the Toronto and Tribeca-screened High Cost. "There are no explosions, there's little comedy and it's a heartbreaking story, but one beautifully told by the director."
Chow tapped Braff a few years back for the role of Henry, an affable if confused New Yorker living under the radar in Montreal as a small-time drug dealer with an expired visa. One fateful night, the course of his existence is irrevocably altered when a hit-and-run on Des Érables Street leaves 8-month pregnant Nathalie (Isabelle Blais) to grieve the death of a child she never knew. For Braff, a nine season TV stint as Dr. John Dorian on Scrubs cemented his industry profile as a go-to comedic actor for quirky, loveable everymen. Now the thesp is looking to expand his repertoire with roles like Henry. "I'm looking, obviously post-Scrubs, to show other sides of my acting; I'm not just a broad comedy guy".
Not that there's anything wrong with broad comedy. Braff confesses to an upbringing heavy on movies, but a very eclectic one at that thanks in no small part to his Annie Hall-adoring parents. "I went to see blockbusters too, but in my family, when we wanted to watch Sixteen Candles for the tenth time, my father would reach for a classic. We grew up watching lots of Woody Allen, because growing up in suburban Jewish New Jersey, Allen's writings about liberal intellectual Jews were relatable to me and my family. It was our lives, but told by a genius writer."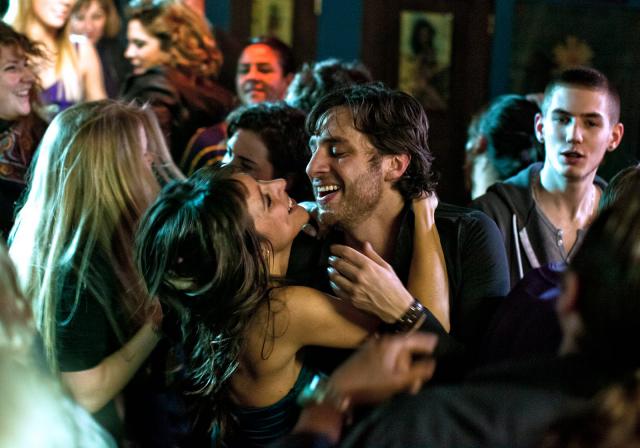 Zach: The music fan with tastemaking skills
An actor and director with a distinctively youthful bent, the 36 year-old Braff has carved out a unique career trajectory for himself over the past decade. His smart coming-of-age charmer Garden State (2004) became a critical and grassroots hit, thanks in no small part to a steady stream of blog posts and other shrewd use of social media.
Key to the film's emotional resonance was its spot-on indie soundtrack, which Braff himself compiled. Whether it be the Zero 7-enhanced game of spin the bottle or the sparks flying between Braff and object-of-affection Natalie Portman as they bond over The Shins, Garden State's soundtrack impeccably captured the cultural zeitgeist of the new millennia's indie youths. Braff, who has directed music videos for buddy Joshua Radin as well as Gavin DeGraw, also put his tastemaker skills to good use as a music consultant on The Last Kiss and Scrubs. He quickly hits the brakes though, if you refer to him as a connoisseur, as I did when inquiring about the importance of music in his daily grind.
"I love music, I listen to music all the time, but there are a lot of people in my life who have an encyclopaedic knowledge of music, which I don't have," he says. "My girlfriend in particular: she'll go through some music festival line-up with 60 bands and will have heard of all of them. And I'll have heard of, like, four."
"If I'm good at anything," he continues, "I would say it's in finding the right piece of music to cut to a scene, which is tricky and is something I got good at because my first entry in entertainment was in musical theatre as a little kid."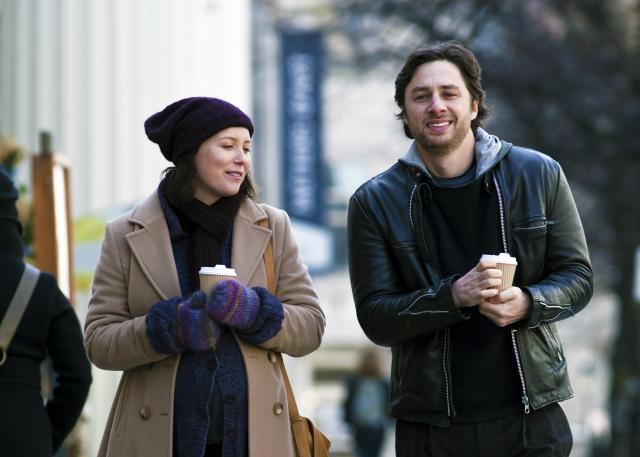 Zach: The poster boy for indie filmmaking
Post-Garden State, many commended the amiable Braff for giving a voice to a certain indie demographic, which quickly spawned not only legions of fans but also his share of detractors (always a harbinger of success), who saw in his angst-ridden characters a bunch of mopey, self-absorbed and spoiled brats. A few years back, prior to the proliferation of online sites such as "Lesbians who look like Justin Bieber", Braff's indie cultural footprint was so significant that it spawned blogs like the oft-cited "Men who look like Zach Braff", a comprehensive destination for pictures of real-life Braffs sporting the signature floppy hair and flirty smirk.
While he recognizes the impact he's had on millennial youths, this multi-talented Montreal bagel lover also sounds slightly concerned about things not moving as quickly as he'd like. "If you look at my Facebook, it's all comments like 'What the hell are you doing?' and 'What's taking you so long?' I wish I could be more prolific, but the thing is, when you want to control everything you do, it's pretty tricky."
Indeed, the numerous pitfalls to getting independent projects off the ground is one of our talk's recurring themes. We first broach the subject when I ask about Open Hearts, a film project he optioned to adapt a while back from recent Oscar-winning Danish director Susanne Bier (it's still on the back burner), again when he mentions his "commercial" romantic comedy entitled Swingles (Cameron Diaz is touted to hold the lead role) and, big shocker here, in addressing the long wait leading up to the release of The High Cost of Living. "It's harder than ever to get a green light on a piece of entertainment these days", says Braff with a sigh.
Zach: The playwright who speaks the truth
The good news? Well, for one, Braff's playwright career is about to get a very high-profile kickoff courtesy of his Jersey-set comedy All New People, which is slated for a world premiere run this summer Off-Broadway. With great enthusiasm, he refers to it as "one of my dreams come true."
Then there's his poignant turn in High Cost as Henry, a guy who's going through a rough patch and has made a few lapses in judgment, but who's nevertheless a good guy. Well, sort of. "That's what I liked about the script; I'm so much more interested in flawed people," shares Braff. "It's so boring when the characters are so clear-cut, that's just a snore. I remember in The Apostle, Robert Duvall is the clear protagonist we're meant to follow. And then all of a sudden he beats someone with a baseball bat and you're like 'whoa, that's our protagonist?' I found that so captivating, I never forgot about it."
Perhaps most telling, however, is Braff's steadfast commitment to producing quality entertainment on his own terms, whatever the challenges and setbacks may be. "What interests me today is not directing epic 100 million dollar blockbusters, even though it's something I might want to do someday. For now, I want to tell stories that are relatable to the lives of a group of people, as Woody's were for my family and I."
The High Cost of Living | In theatres on April 22